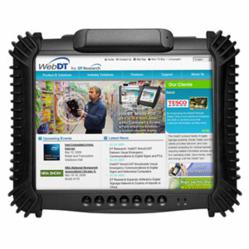 Group Mobile's understanding of the rugged tablet market combined with the company's excellent customer service will create a win-win relationship for both DT Research and Group Mobile.
Chandler, Arizona (PRWEB) October 27, 2011
Group Mobile, well known for carrying the top brands in rugged laptops, rugged tablet PCs, rugged PDAs, and rugged handheld computers has recently extended its product offerings to include the line of economical, rugged tablet computers from DT Research, Inc. DT Research Tablets offer vibrant touch displays and high performance yet energy-efficient Intel® Atom™ processors within slim, light, and durable housings. These tablets perform in a variety of working conditions — on the sales floor, in the warehouse, in a vehicle, and in the field.
"DT Research's rugged tablets provide a strong and durable mobile computing platform at a very affordable price," stated Richard Lawson, President of Group Mobile. "With prices starting under $1,400 and a quick delivery time (often less than five business days), we expect these rugged tablet PCs will be very popular among our customers. The Tablet PC form factor has historically been popular in warehouse management and logistics, field data collection, inspection and surveillance, building automation, mobile CRM, meter reading, asset management, plant operations, fleet management, shipping and receiving, and retail POS. Since the tremendous success of the Apple iPad in the consumer marketplace, we are now seeing even more demand for rugged Tablet PCs for those who want an iPad-like device but who work outdoors in the sun, from their vehicles, or in any non-office settings where dust, moisture, low or high temperature, drops and bumps, or other non-pristine environmental conditions apply."
With DT Research's rugged tablets, users can choose between Microsoft® Windows® Embedded Standard 7, Windows 7 Professional, Windows XP Embedded, Windows XP Pro for Embedded Systems, or Linux operating systems. DT Research tablets feature options for RFID, smart card, and magnetic stripe readers, barcode scanners, and integrated cameras. These versatile tablets also offer Wi-Fi 802.11 wireless connectivity to enhance work efficiency.
The sizes of the of the touch displays vary to accommodate a wide variety of uses: DT312 has a 10.4-inch display, DT390 has an 8.9-inch display, DT362 has an 8.4-inch display, DT372 has a 7-inch display. For outdoor use, optional sunlight-readable displays are available on all models.
"We are pleased to add Group Mobile as our newest partner," said Jeffrey Johnston, Sales Manager for DT Research. "Group Mobile's understanding of the rugged tablet market combined with the company's excellent customer service will create a win-win relationship for both DT Research and Group Mobile."
To learn more and purchase a DT Research economical rugged tablet, visit http://www.groupmobile.com/brand.asp/dept_id=/mf_id=83.
About Group Mobile
Headquartered in Phoenix, AZ, Group Mobile serves customers all over North America. Customers range from Fortune 500 companies and the U.S. Military, to local police/fire/ambulance, to small and mid-size businesses, to the frequent traveler that needs something more durable than a commercial, off-the-shelf computer. Group Mobile carries the leading rugged computing brands. In addition, Group Mobile offers vehicle docking and mounting equipment from Gamber Johnson, Ram Mounts, and Havis/Ledco. To learn more about rugged computers and how they differ from commercial, indoor computers, check out the Rugged Computer Guide or visit us online at http://www.groupmobile.com.
About DT Research
DT Research™ (DTR) develops and manufactures web-enabled information appliances for vertical applications. The DTR family of products is based on thin computing platforms for secure, reliable, and cost-effective computing. DTR products include wireless tablets, point-of-service handhelds, compact modular systems, display-integrated information systems, and digital signage solutions. These systems emphasize mobility, wireless connectivity and touch displays. Powered by Windows® Embedded and Windows XP operating systems, DTR devices offer durability and ease in integration, leading to solutions that can be remotely managed with the comprehensive WebDT Device Manager software.
# # #