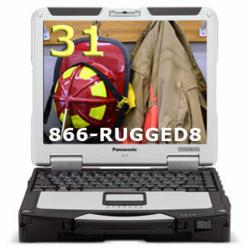 Strategic partnerships with rugged computer suppliers are essential to the success of ERM. The relationship between EMR and Group Mobile empowers our mutual customers to leverage from a powerful and complete first responder solution
Chandler, AZ (PRWEB) March 15, 2012
Group Mobile and Emergency Response Maps (ERM) today announced a strategic partnership that will provide a turnkey mapping and mobile response solutions to first responders. The relationship will combine ERM's RUNBOOK® software with rugged laptops and tablet computers supplied by Group Mobile to provide EMS and other public safety professionals a complete mobile computing solution to enhance first responder safety, while improving response times and operational capabilities.
Group Mobile, well known for carrying the top brands in rugged laptops, rugged tablet PCs, rugged PDAs, and rugged handheld computers offers experience and expertise in rugged, mobile computing products. Group Mobile's staff will assist customers in selecting the best rugged computer for their environment, application, and budget. The rugged computers selected will run ERM's eFirstView and/or Runbook software.
Emergency Response Maps' eFirstView® is a pre-planning program for first responders. It was developed as a "best of breed" solution that is very easy to use. It displays the most critical pre-plan information on a summary page. First responders and incident commanders have quick and easy access to the information they need, when they need it. Additionally, touch screen access to view floor plans, site plans, aerial imagery, videos, along with a an easy-to-use drawing program, add to the many features and related benefits. To learn more about eFirstView, visit http://www.groupmobile.com/product.asp/sku=6005.
The RUNBOOK® software allows clients to display maps on CAD systems, desktop computers, laptops, PDA's, cell phones, and other mobile devices. This software has been customized for the emergency response industry, featuring one button GIS operations. The software has eight simple mapping functions. To learn more about RUNBOOK®, visit http://www.groupmobile.com/product.asp/sku=6006.
Today, EMS and other public safety professionals are in need of automated systems that comply with strict local, state and federal requirements. There is also an increasing need for tools to make firefighting and other first responder efforts more effective to improve their safety and the safety of the citizens they protect. All of this information needs to be accessible on a computer system that is rugged enough to withstand the tough environments EMS and public safety professionals encounter throughout their daily routines.
With ERM and Group Mobile, first responders and public safety professionals are delivered a comprehensive solution that provides timely access to mobile mapping, GPS routing, incident management, and hazardous materials solutions. Together, ERM and Group Mobile supply the required rugged computer hardware and software including installation, configuration, and training at an affordable price.
"Partnering with Emergency Response Maps will allow Group Mobile to offer turnkey specialized mapping solutions, pre-planning, and integration for first responders to our EMS and public safety customers," said Stephanie Kreitner, Director of Marketing for Group Mobile. "ERM has developed an extraordinary, user-friendly, and comprehensive program that will save users time and money. We are pleased to add ERM as a strategic software partner."
"We are excited about the partnership with Group Mobile," said Herb Bargoot, CEO of ERM. "Strategic partnerships with rugged computer suppliers are essential to the success of ERM. The relationship between EMR and Group Mobile empowers our mutual customers to leverage from a powerful and complete first responder solution."
About Group Mobile
Headquartered in Chandler, AZ, Group Mobile serves customers all over North America. We supply customers ranging from Fortune 500 companies and the U.S. Military, to local police/fire/ambulance, to small and mid-size businesses, to the frequent traveler that needs something more durable than a commercial, off-the-shelf computer. Group Mobile carries all the leading rugged computing brands such as Panasonic, GD-Itronix, Xplore Technologies, Getac Inc., Trimble, and more. In addition, Group Mobile offers vehicle docking and mounting equipment from Gamber Johnson, Ram Mounts, Jotto Desk, and Havis/Ledco. To learn more about rugged computers and how they differ from commercial, indoor computers, check out the Rugged Computer Guide or visit us online at http://www.groupmobile.com.
About Emergency Response Maps
Emergency Response Maps (ERM) was founded in 2000 to meet the growing needs of City, County, State, and Federal governments to produce high quality mapping solutions from GIS data. Our flagship product, RUNBOOK®, offers superior mission-critical mobile mapping, GPS routing, incident management, and hazardous material solutions for all public safety entities. Our recent integration of our eFirstView® Pre-Planning program, offers more robust capabilities to enhance first responder safety and operational capabilities. Both RUNBOOK® and eFirstView® can be deployed in a standalone setting, or as a fully integrated solution interfaced with Computer Aided Dispatch systems (CAD), customizable for the individual needs of our clients. ERM also offers data integration services for populating eFirstView® to help minimize the time consuming data collection process typical with pre-fire planning.