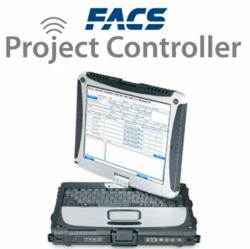 Group Mobile brings years of rugged computing expertise and technical knowledge to construction project owners
Chandler, Arizona (PRWEB) April 26, 2011
Group Mobile and Field Automated Communication Systems, LLC (FACS) today announced an alliance that will provide a complete construction project management solution for the AEC industry. The relationship will combine FACS Project Controller™ project management software with rugged laptops and tablet computers supplied by Group Mobile to provide a turnkey solution to streamline construction project management.
Group Mobile, well known for carrying the top brands in rugged laptops, rugged tablet PCs, rugged PDAs, and rugged handheld computers offers experience and expertise in rugged, mobile computing products. Group Mobile's staff will assist customers in selecting the best rugged computer for their environment, application, and budget. The rugged computers selected will run FACS Project Controller, the truly mobile construction project management software specifically designed to improve project delivery by enabling electronic field-to-office collaboration, communication, and project management.
FACS Project Controller is a powerful, yet easy-to-use system that provides fully integrated project control, document control, and contract administration to the entire construction project team whenever and wherever they need. FACS Project Controller was developed for construction professionals, by construction professionals and provides advanced tools proven to deliver improved project control, reduced manpower requirements, and savings of countless hours of travel and document searching.
As a leading rugged computer supplier, Group Mobile has come to recognize software and rugged mobile computing technology can be leveraged to address key issues troubling its AEC customers who today are faced with unprecedented economic pressures to reduce bottom-line costs and deliver projects on time. FACS Project Controller is a cost effective Software-as-a-Service (SaaS) solution designed specifically to eliminate paper-based delays and increase collaboration of project teams in the field and office – two of the biggest contributors to cost overruns and project delays.
"We are pleased to announce this new relationship. FACS Project Controller represents the latest in mobile construction project management technology," said Richard Lawson, President of Group Mobile. "FACS has developed an extraordinary, user-friendly, and comprehensive system that will deliver efficiencies to our clients by improving the collaboration amongst project team members, as well as help project owners mitigate risks. This alliance serves our customers well."
"Group Mobile brings years of rugged computing expertise and technical knowledge to construction project owners," says Daryn Reif, CEO of Field Automated Communication Systems. "We are excited to be working with Group Mobile to deliver our best-of-breed solutions with their rugged computing expertise to quickly and efficiently solve their clients' most pressing construction project management needs."
For more information on FACS Project Controller, visit http://www.groupmobile.com/product.asp/sku=5257/dept_id=20/FACS+Project+Controller.html. To learn more about Group Mobile's Strategic Software Solutions Partners, visit http://www.groupmobile.com/StrategicSoftwarePartners.asp.
About Group Mobile
Headquartered in Chandler, AZ, Group Mobile serves customers all over North America. We supply customers ranging from Fortune 500 companies and the U.S. Military, to local police/fire/ambulance, to small and mid-size businesses, to the frequent traveler that needs something more durable than a commercial, off-the-shelf computer. Group Mobile carries all the leading rugged computing brands such as Panasonic, GD-Itronix, Xplore Technologies, Getac Inc., Trimble, and more. In addition, Group Mobile offers vehicle docking and mounting equipment from Gamber Johnson, Ram Mounts, Jotto Desk, and Havis/Ledco. To learn more about rugged computers and how they differ from commercial, indoor computers, check out the Rugged Computer Guide or visit us online at http://www.groupmobile.com.
About Field Automated Communication Systems, LLC
Field Automated Communication Systems, LLC (FACS) is the leading provider of mobile construction project management solutions for the AEC industry. FACS specializes in leveraging the latest advances in wireless technology, to provide practical, user friendly solutions for industry professionals who aim to deliver construction projects on time and within budget. http://www.facsware.com
FACS Media Contact: Cathi Mason, 415.494.8032, cathim(at)facsware(dot)com
# # #