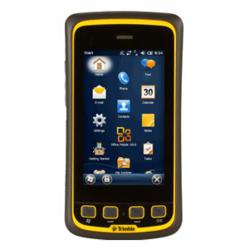 The Juno T41 handheld delivers the convenience and ease-of-use of a smartphone, with durability and long-term support that customers have come to expect from Trimble handhelds.
Chandler, Arizona (PRWEB) September 11, 2012
Group Mobile, well known for carrying the top brands in rugged laptops, rugged tablets, rugged PDAs, and rugged handheld computers has recently extended its product offerings to include the newest Trimble outdoor rugged handheld computer. The Juno T41 brings a smartphone-inspired option to industries demanding a rugged field computer for data collection and mobile workforce management. The Juno T41 is a developer-friendly computing device for real-world field conditions with either Windows Embedded or Android operating systems.
"The Juno T41's slim, ergonomic design is thinner and lighter than other rugged computing products in its class today. Powerful, connected, compact and easy-to-use, the Juno T41 handheld computer is ideal for any mobile professional or demanding consumer," said Jim Sheldon, general manager of Trimble's Mobile Computing Solutions Division.
The Juno T41 handheld has voice, SMS text, and 3.75G cellular data transfer capabilities on GSM cellular networks worldwide. Users can upload and download data from the cloud using Wi-Fi or WWAN connections. The 8 megapixel camera can automatically include time and location data from the GPS receiver. The Juno T41 handheld includes an 800MHz or 1GHz processor with up to 512MB of RAM, and up to 16GB of nonvolatile onboard flash to run software applications quickly and dependably.
The 4.3" high resolution capacitive display is sunlight-readable and brilliantly clear. Multi-touch support allows complex selections and controlled zoom to optimize the user experience with maps and detailed information. A capacitive stylus is available as an optional accessory.
The Juno T41 handheld is designed to be long-lasting, from the battery to the processor, and to work through demanding situations that would sideline lesser smartphones. The lithium-ion polymer battery lasts all day for most users, and an optional external battery pack is available for solutions requiring all-day wireless connectivity and processor-intensive applications. The Juno T41 handheld can withstand water, dust, shock, drop, vibration, and extreme temperatures. The Juno T41 features a Gorilla® Glass panel to survive hostile conditions in the field.
"Trimble outdoor rugged handhelds have always been very well-liked among our customers because of their outstanding ruggedness and dependability, as well as Trimble's years of experience in outdoor rugged mobile solutions," said Stephanie Kreitner, Marketing Director for Group Mobile. "The Juno T41 handheld delivers the convenience and ease-of-use of a smartphone, with durability and long-term support that customers have come to expect from Trimble handhelds."
To learn more and order the new Trimble Juno T41 rugged handheld computer, visit http://www.groupmobile.com/product.asp/sku=6156/dept_id=/mf_id=65/Trimble+Juno+T41+Rugged+Handheld+Computer.html, or call toll free 866-784-4338.
About Group Mobile
Headquartered in Phoenix, AZ, Group Mobile serves customers all over North America. Customers range from Fortune 500 companies and the U.S. Military, to local police/fire/ambulance, to small and mid-size businesses, to the frequent traveler that needs something more durable than a commercial, off-the-shelf computer. Group Mobile carries the leading rugged computing brands. In addition, Group Mobile offers vehicle docking and mounting equipment from Gamber Johnson, Ram Mounts, and Havis/Ledco. To learn more about rugged computers and how they differ from commercial, indoor computers, check out the Rugged Computer Guide or visit us online at http://www.groupmobile.com.
About Trimble's Mobile Computing Solutions Division
Trimble's Mobile Computing Solutions Division offers innovative products that enable mobile workers to be more efficient in extreme outdoor and industrial environments. The Nomad®, Recon®, Ranger™, and Yuma® outdoor rugged handheld computers help users collect accurate field data and work more productively in any outdoor or service-related application. Trimble's handheld computers meet MIL-STD-810F/810G military specifications for drops, vibration, immersion and temperature extremes, and with IP65 to IP68 ratings, are sealed against dust and water.
About Trimble
Trimble applies technology to make field and mobile workers in businesses and government significantly more productive. Solutions are focused on applications requiring position or location — including surveying, construction, agriculture, fleet and asset management, public safety and mapping. In addition to utilizing positioning technologies, such as GPS, lasers and optics, Trimble solutions may include software content specific to the needs of the user. Wireless technologies are utilized to deliver the solution to the user and to ensure a tight coupling of the field and the back office. Founded in 1978, Trimble is headquartered in Sunnyvale, Calif.