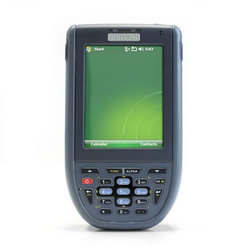 The PA600 rugged mobile PDA is one of Unitech's most popular products and will be an excellent extension to Group Mobile's rugged handheld computer offerings.
Chandler, AZ (PRWEB) April 22, 2010
Group Mobile, an online reseller of rugged computers has recently added Unitech Electronics' rugged handheld computers to its product offerings on http://www.groupmobile.com .
Group Mobile, well known for carrying the top brands in rugged laptops, rugged tablet PCs, rugged UMPCs (Ultra Mobile PCs), rugged PDAs, and rugged handheld computers, now carries another leading brand in rugged handheld computing. The Unitech PA600 rugged PDA has recently been added to Group Mobile's product line, with other rugged Unitech mobile computing devices to follow soon. Unitech rugged handheld computers are designed to support applications such as field service, sales automation, retail, hospitality, utilities, and healthcare, as well as other highly mobile workforces that require extra security and efficiency in demanding working environments.
"The PA600 rugged PDA is one of Unitech's most popular products and will be an excellent extension to Group Mobile's rugged handheld computer offerings," stated Richard Lawson, President of Group Mobile. "We listened to our customers, tested and evaluated Unitech's rugged PDA, and determined that these versatile and competitively priced mobile computing devices offer great value and the enhanced functionality our customers are looking for."
Powered by Windows® Mobile 6.1, the Unitech PA600 is ideal for users requiring a compact, yet durable PDA for data collection and real time transactions. This rugged PDA is equipped with an LCD color touchscreen display, 20-key keypad, 624MHz processor, Bluetooth, integrated laser scanner, and optional WLAN 802.11b/g. The PA600 is small in size, but is enormously powerful and durable, with the ability to withstand 4-foot drops onto a concrete floor and an IP64 rating to resist dust and water. Special performance configurations are also available. The PA600 Phone Edition has GPRS WWAN capabilities, and the PA600 Mobile Clinical Assistant (MCA) configuration has anti-microbial housing and integrated RFID and 2D imager for use in healthcare environments. To learn more and purchase the PA600 rugged PDA, visit http://www.groupmobile.com/product.asp/sku=4535/dept_id=/mf_id=71/PA600+Rugged+PDA.html.
"Unitech Electronics is pleased to be affiliated with Group Mobile and looks forward to a strong and long-lasting partnership," said Ben Keo, West Central Territory Manager for Unitech. "Like Group Mobile, Unitech is committed to providing products that deliver the best possible value to customers. We are sure our reseller agreement with Group Mobile will be very advantageous to both companies."
About Group Mobile
Headquartered in Chandler, AZ, Group Mobile serves customers all over North America. Customers range from Fortune 500 companies and the U.S. Military, to local police/fire/ambulance, to small and mid-size businesses, to the frequent traveler that needs something more durable than a commercial, off-the-shelf computer. Group Mobile carries all the leading rugged computing brands. In addition, Group Mobile offers vehicle docking and mounting equipment from Gamber Johnson, Ram Mounts, Jotto Desk, and Havis/Ledco. To learn more about rugged computers and how they differ from commercial, indoor computers, check out the Rugged Computer Guide or visit us online at groupmobile.com.
About Unitech Electronics Co., LTD.
Unitech was founded in 1979 in Taipei, Taiwan, to provide the local market with customized microprocessor-based automation systems. To meet the demands of a growing industry, Unitech created a business segment to focus solely on data collection technology in 1985. Now, with over 30 years of experience in the industry, Unitech has grown to be a successful global corporation with over 500 employees worldwide.
###