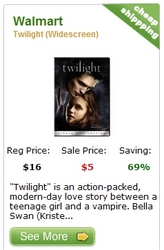 This site is way better than Groupon...
Chicago, IL (PRWEB) April 5, 2011
Now that Groupon has satiated the nation's need for discounted facials, far away restaurants, and stripper pole lessons people want big discounts on things they regularly buy. They also want to get these discounts at the major retailers they already know and trust.
MyPersonalShopper.com is the first and only website to offer discounts of 50%-75% at major retailers like Target, Walmart, Amazon.com, Gap and others. It also:
1. Organizes all discounts so users can easily find the ones they want .
2. Doesn't overwhelm people with an email every single day.
3. Provides deals that last for weeks at a time instead of just one day.
4. Has 20,000 discounts ready to go.
How can a new site do that when Groupon and its 500 copy cats have failed to consistently offer discounts at major retailers? MyPersonalShopper goes beyond the daily deal to pull in all the discounts people want. Their database includes clearance sales, refurbished items, promo codes, daily deals, traditional coupons and every other discount people want.
"This site is way better than Groupon. I saved 75% on some clothes I brought at Target" said Chicago resident Luke Lambert. "I like the fact that they show me stuff I want."
Anybody who likes the idea of saving 50% or more on the things they buy from major retailers can register in just a minute. Users check off the food, clothes and stuff they like to buy and then the get a personalized store that pulls in the best discounts on the web.
About MyPersonalShopper.com:
MyPersonalShopper.com is the world's first scalable personal shopper. It invites people to share a little of information about the kinds of things they buy and then it scours the internet for the best discounts and shows people the ones that match their interests. The site launched on February 23, 2011 at the Launch Conference in San Francisco. To learn more about the company see the FAQ (http://mypersonalshopper.com/faq.php)
###