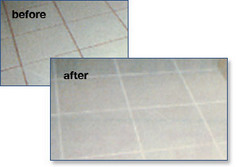 When choosing a chemical to do your cleaning always use the right product for the right job.
Roseville, MI (Vocus) September 7, 2010
Vaporlux specializes in tile and grout cleaning – you have it in your entry ways, kitchens and bathrooms. But it gets dirty. Over time food and particles settle into the grout, creating a breeding ground for mold, mildew and odors. How do you get it clean take care of and clean grout?
Getting tile and grout clean and keeping clean simply requires the right tools for the right job. To start here are a few things to consider:
1. Is your grout or was your grout sealed?
2. Is your grout stained?
3. Are you doing a weekly cleaning or a periodic deep cleaning?
The answer to each of these questions will help you find the right tools for the job.
Sealing
When your tile was installed it was probably sealed. Grout sealers and epoxies are not a 100% guarantee against discoloration or dirt and mildew build-up. Periodic cleaning is necessary and recommended. It is also a good idea to periodically reseal the tile and grout. Remember sealers are meant for stain protection against make up, food, colored drinks like coffee and red wine. Grout can be sealed up-to 72 hours after installation or sealed between 20 minutes to 72 hours after cleaning, depending on the method you use. Sealers vary in price but can be found at your local hardware store.
Re-Staining
Grout discoloration is often the first thing noticed. Most importantly before re-staining grout, it should be deep cleaned, to remove particles and bacterium. Grout re-staining is a quick but temporary fix when discoloration occurs. These epoxy based products used in re-staining grout are specifically made to penetrate into the grout, leaving a permanent color. Once the grout has been stained it should be resealed. Grout stains can be found at your local hardware store.
Weekly Cleaning
In the past standard methods of grout cleaning include vinegar, baking soda, hydrogen peroxide, chlorine bleach, and oxygen bleach powder. Beware of the damage corrosive cleaners like bleach can do. Keep in mind that many cleaners damage surfaces. All of them leave behind residue. All of them leave behind the deep down dirt and mildew.
The Tile Lady, Debby Parker, has been restoring tile and grout since 1994. When asked about cleaning tile and grout, she stressed that "When choosing a chemical to do your cleaning always use the right product for the right job." Today for daily cleaning, use pH-balanced cleaners and soapless detergents. The first step is to agitate surfaces with a soft bristled brush which loosens debris. Parker also shared that "Degreasing cleaners work best on kitchen counter tops and floors where as mildew removers work best in showers. Hydrogen Peroxide can be used straight from the bottle on some grout stains such as ink or rust (caused from potted plants)." Let the cleaner sit on the surfaces for a few seconds. Thoroughly rinse and dry surfaces, ensuring that the cleaners are removed and preventing the re-occurrence of mildew.
Grout Cleaning Don'ts

Avoid acidic cleaners like bleach as they eventually erode the grout.
Don't use a metal bristles as they wear grout away.
Never mix cleaners – fumes, burns, etc. can be poisonous and explosive.
Do not to use vinegar on colored grout.
Don't use Stainless Steel bristles as they wear grout away.
Grout Cleaning Do's

Immediately wipe up spills, liquids and messes. This slows down the process of dirt working its way into the grout.
When using chemicals; use the right product for the right job.
Use gloves & protective eye gear when using chemicals.
Test grout cleaners in small inconspicuous area to test that won't damage especially on already damaged or old grout.
Afterward cleaning use a grout sealer. There are different kinds for various types of grout so read the product material before purchasing.
Read the directions on all types of grout cleaning products.
Deep Cleaning
For more intense, deep surface grout cleaning and disinfecting, dry vapor steam cleaning is the most effective way to flush out dirt, mold and bacterium. It is the most environmentally safe and healthy as it uses no chemicals. Between pressure and heat, dry vapor steam cleaners are able to deep clean by flushing out and disinfecting surfaces. How deep does it clean? It flushes out dirt and grime with vapor that is about heated to about 285 degrees. At low pressure, it is forced into the smallest pores. Brushes break surface tension so vapor can penetrate. Hot gas vapor molecules enter the surface pores and violently expand, killing bacteria and forcing out dirt and debris. Natural surface colors and textures are restored. Pores are clean. Conditions are less favorable for bacteria, mold and mildew. Odors eliminated and material dries faster. Usually within 15 minutes surfaces are dry. Vapor steam cleaners can either be purchased or rented at your local rental store.
VaporLux has been manufacturing the highest quality commercial vapor cleaning systems for nearly twenty years. They are the only commercial UL listed heavy duty commercial steam vapor machines. Until recently the company focused it's technology on commercial applications from health care, food service, tile and grout restoration, hotels to auto detailing. Recently, after great customer demand, they have introduced a smaller home and office machine that offers the same design and accessories in a user friendly size.
###