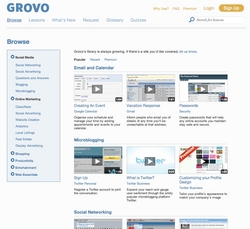 New York, NY (PRWEB) March 1, 2011
Grovo.com, an online education and training platform that helps people find and use relevant websites, today announced the launch of Grovo Premium, exclusive content for businesses looking to take advantage of online business tools. Along with the announcement of Grovo Premium comes a full site re-design and revamped experience for free users, positioning Grovo as the personal field guide to the Internet.
"There's a huge need for online education today," said Grovo CEO Jeff Fernandez. "People want to find and use the best sites, and sites are desperately trying to reach users. With our redesign and new Premium offerings, Grovo is making huge strides toward bridging that gap for both consumers and businesses."
For a monthly fee of $19, or $190 annually, organizations can gain unlimited access to advanced online training and business content in the areas of productivity, online marketing and social media. Grovo's Premium content provides in-depth, ongoing training on the sites and applications organizations use most.
At launch, Grovo will feature premium lessons for more than a dozen sites, including Basecamp, Facebook Pages, Google Apps and Analytics, Retargeter and Twitter for Business. New premium content is released every week, and Premium users receive regular newsletters highlighting new sites and updates to existing sites.
With the site redesign, Grovo has opened much of its content to the public for free. Grovo users now have unlimited access to hundreds of lessons covering social media, online shopping, entertainment, productivity and Web essentials. Users can also learn with quizzes, takeaways and glossary terms, and utilize Grovo's new activity feed, which allows users to track their progress and revisit content.
Grovo features a new, intelligent viewing experience that positions every Grovo video lesson on a dedicated page designed to help users retain knowledge, access related content, save key points and learn related terms. Grovo content is now engineered to live anywhere on the Web. Users can post or embed video lessons on a site or blog, and like, share or tweet Grovo content to friends and colleagues.
Grovo currently features over 400 lessons spanning dozens of sites. All content is produced in-house by Grovo's expert team of writers, editors and voiceover talent, and is constantly updated. Grovo expects its library to grow to at least 2,000 new and revised lessons by 2012.
Grovo users can easily request coverage for sites they use most or would like to know better. The most-requested sites on Grovo are surfaced publicly, and can be promoted by the Grovo community.
About Grovo:
Grovo is an online education and training platform that helps people find and use sites, and helps sites reach and educate users. Grovo is the field guide to the Internet.
The company was born out of the desire to provide the Web's first centralized location for online help and education. It is inspired by the strong belief that people, from all walks of life, can benefit from learning about the Internet and all it has to offer.
Grovo is agnostic and devoid of promotional language or ads. All content, including video lessons, takeaways, quizzes and glossary terms, is produced in-house by Grovo's team of writers, editors and voiceover talent. Grovo is free to all users, and also features premium content geared toward businesses. In addition, Grovo partners with sites to provide help content specific to their users' needs.
Grovo is a privately held company headquartered in New York City.
###