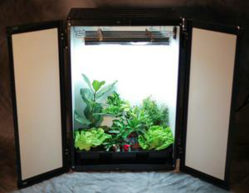 It's the end of the year and we wanted to give customers a little bonus and incentive to buy something for the holidays.
Northridge, CA (PRWEB) December 14, 2011
All of Dealzer.com's state-of-the-art grow systems are on display at discounted prices for the month of December. Dealzer brings some of the best design in today's hydroponic industry to customers directly, at rock-bottom prices, with high design grow box products that are made for beginners. These easy to use, easy to maintain systems pay for themselves many times over, generating healthy plants with every plant cycle and relying on versatile electronics to provide air handling and everything else that plants need for a healthy path to maturity. These innovative products also utilize low energy systems that will cost less to run, in many available styles for all sorts of complicated and unique growing environments.
"It's the end of the year and we wanted to give customers a little bonus and incentive to buy something for the holidays," says Maria Spear, manager of Dealzer.com.
Take advantage of 10% to 30% off of hydroponic grow box and grow tent systems that will stand the tests of time and provide easy, efficient ways to produce any kind of plant. The research for products starts with premier nutrients and ingredients for intake. Easy to install, low fee lighting helps take some of the complexity out of the hydroponic growing equation. The overall designs of these grow box interiors and grow tent setups also enable the best kinds of plant growth without taking up too much space or standing out in a room or building. Each of these winning hydro systems is built with an eye toward customer convenience and includes lots of supported features to make your plant cycles a cinch. There's also a wide variety of systems available with all kinds of pricing to fit any holiday budget, and the additional discount gets even more value for cost on any sized hydroponic grow product.
In our end of the year sale for the month of December, there is truly something for everyone. Browse an extensive collection of grow box systems and get the kinds of hydroponic solutions you've been looking for all year. Choose from small, two plant boxes to much larger systems, with single reservoirs to feed dozens of plants and produce copious yields. By partnering with one of the best modern hydroponic system retailers, one can see how easy it is to produce harvests and join the immense community of modern day "hydroponic farmers" that are benefiting from the simple natural power of plant production. Dealzer will help you start out on the right foot with a hydroponic project, so that you finish strong, with a great result at harvest time.
This end of the year sale ends on December 31st, 2011.
Dealzer.com Contact:
888-HYDRO-81
support(at)dealzer(dot)com
###