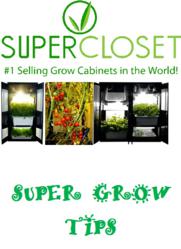 San Francisco, CA (PRWEB) March 08, 2012
Super Grow Tips begins with "The Basics": Grow Lights, Grow Cycles, Temperature, Humidity, Air Flow and Water Quality and Nutrients. If you have ever heard the phase, "You must walk before you can run", it applies here. Understanding the most important factors in indoor growing systems is crucial in achieving results and eventually establishing oneself as a master grower. Just like evaluating your plants from the roots up is proper protocol, starting from a good foundation in plant knowledge will lead to a successful indoor gardening pursuit. Super Grow Tips starts small and grows big.
Super Grow Tips then tackles the plant phases of growth starting with germination. A full color picture sequence shows exactly how to give one's precious seeds the best chance for survival in a growbox or growroom environment. Transplanting is covered next and Super Grow Tips shows exactly what a rooted clone should look like when transplanted into the flowering area. Populated throughout the manual are Super Grow Tips. Here is an example of one: SuperGrow Tip: Its always advised to make sure your sprouts and saplings are completely rooted before subjecting them to the intensity of an HID light. Rotating your Crop is the next topic covered and highlights one of the best advantages of owning a SuperCloset grow box; you can flower plants in one grow chamber and vegetate plants in a separate but connected chamber. This perpetual rotational grow methodology enables an indoor grower to "always be flowering". To increase yields, plant management techniques like utilizing the net trellis, are discussed next in Super Grow Tips. Finally, nutrient deficiencies and excesses, pests and diseases are the final topic covered in the Super Grow Tips manual. This final topic is a spectacular reference guide for customers who experience any type of abnormality during their growing cycles. Customers can compare what their plants look like to the pictures depicted in this section.
It is SuperCloset's intention to not only sell the perfect [grow boxes, grow cabinets and hydroponic systems in the world, but provide perfect grow knowledge as well.
Happy Growing!!
About SuperCloset:
SuperCloset takes the guesswork out of growing through manufacturing the most innovative and customer friendly hydroponic systems and turnkey grow box units. After 10 years SuperCloset continues to lead the horizontal and vertical growing industry with its commitment to excellent products and world-class customer service.