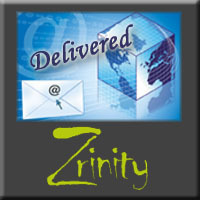 there was always a team of experts conducting research that chose Zrinity, and a vast majority of the firms were Web 2.0 businesses.
Utica, NY (PRWEB) November 9, 2008
Zrinity, a Central New York based on-premise email systems firm, announced numerous new customers in the second half of 2008 and, according to the owners, has as many new customers slated for closure in Q1 2009 as were booked in the last two quarters of 2008. The themes that carried through the new Zrinity customers was that "there was always a team of experts conducting research that chose Zrinity, and a vast majority of the firms were Web 2.0 businesses."
Most recently Mother Nature, a Web 2.0 company, chose Zrinity and according to Oliver Clark, Chief Technology Officer, Mother Nature, "The Zrinity team built this system to be very user friendly. They built it as I would have if I had the time to build my own in-house system." Mother Nature, founded in 1995, is an online provider of natural health, wellness and beauty products. Mother Nature is also the largest natural health library on the Web.
An e-commerce team at Eldorado Resorts chose Zrinity and according to Chad Hallert, Corporate E-Commerce Manager, Eldorado Resorts, "Our E-Commerce department performed extensive research on the Internet and via discussions with colleagues to evaluate which email delivery products offered high performance, a high level of support and a reasonable cost. . ." Eldorado Resorts owns and operates two resort casinos, the Eldorado Hotel Casino in Reno, Nevada, and the Eldorado Resort Casino in Shreveport, Louisiana.
Shawn Pickering, Owner and CEO, Analytic Approach, found Zrinity after a Google search and he stated, "Our team spent over fifteen days researching providers of email systems." AnalyticApproach.com is an email service provider that optimizes delivery of email newsletters by delivering to the inbox and ensuring email campaigns are as effective as possible.
Jango, a New York City based Web 2.0 firm, chose Zrinity's on-premise email delivery system for its email communications needs. The Jango research team was put together to further explore and conduct a due diligence on the remaining competitors. Mattias Stanghed, Chief Product Officer, Jango.com, was part of the research team at Jango which consisted of the Director of Information Technology, Chief Technology Officer and CEO. Launched in November 2007 Jango is a social music service that lets you create and share custom radio stations. "It's the easy way to play the music you want online, legally and free."
Wade Chinoy, Network Engineer at Jobfox, headed the inquiry into on-premise email delivery systems. The in-house team, which also consisted of a marketing expert and the lead developer, chose Zrinity over other email industry competitors, then recommended Jobfox choose Zrinity Email Systems based upon their findings. Jobfox is the inspiration of Rob McGovern, one of the nation's foremost career experts. He was the Founder and former Chairman and CEO of CareerBuilder.
Jacobs Interactive, who lists FLW Outdoors (Fanatasy Fishing), also chose Zrinity. According to Scott Iverson, Vice President at Jacobs Interactive, "We sought an enterprise level email application that would help us manage all our email needs such as unsubscribes, bounces, reporting. . . " Jacobs Interactive provides innovative Web-based business and marketing solutions to the Jacobs Management family of companies.
###