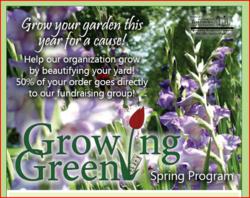 We've really enjoyed this program, and we are very pleased with all your help! Thank you!
Menomonee Falls, WI (Vocus/PRWEB) February 08, 2011
A fairly new concept in the world of fundraising, Growing Green Fundraising has launched its program for the Spring 2011 season. This fundraising program focuses on selling garden plants and bulbs to organizations' supporters while returning 50% of every sale directly back to the organization.
After an extremely successful fall season, Growing Green Fundraising has announced the release of their program for the 2011 spring season, showcasing spring planted flower bulbs such as canna, peonies, daylilies, stargazer lilies, and more. A welcome change from the typical cookie dough, wrapping paper, and pizza fundraisers, this program focuses on selling products people will actually be interested in purchasing while helping beautify the environment. The program is designed to be extremely easy for everyone involved to execute: the fundraising chairperson, those selling the products, and those purchasing them. As previously mentioned, a 50% profit is made by the organization on every product sold and all orders ship to the organization free of charge. This provides the supporters with the most for their money and in turn, gains as much as possible for the organization. Just as with the plant products sold in the fall program, each item sold in the spring brochure is backed by a 100% Grow Guarantee in which the purchasers of the products contact the fundraising company directly regarding any questions. This helps to eliminate any extra work by the non-profit organization running the program.
One of the nicest things about this particular fundraiser is that the organization can run the program whenever it works best for them. Growing Green Fundraising begins processing orders at the end of March, but an organization could literally begin their campaign anytime using the straight-forward literature. The one-piece, tri-fold brochures are complete with high resolution color photographs of each item as well specific information regarding each plant's characteristics.
Growing Green Fundraising has already helped countless organizations raise money for their causes through the sale of flowerbulbs and garden plants. These organizations include churches, schools, youth groups, boy and girl scout troops, hockey teams, marching bands, 4-H groups, and many more. As Karen Dowson of the Richmond Dale United Methodist Women's Group says, "We've really enjoyed this program, and we are very pleased with all your help! Thank you!" Any one of these groups can easily request a free informational packet through the submission form on the Growing Green website.
About Growing Green Fundraising:
Growing Green Fundraising is a limited-liability company which was developed as a joint venture between two online flower bulb retailers: Holland Bulb Farms and Tulip World. This company offers two fundraising programs, one in the spring season and one in the fall, where organizations of all kinds can encourage their supporters to grow their garden for a cause. To ensure a great experience by those selling their products as well as those purchasing them, Growing Green provides only premium flower bulbs from growers in Holland and the United States and backs them all with a 100% Grow Guarantee. Visit them at http://www.growinggreenfundraising.com/.
# # #