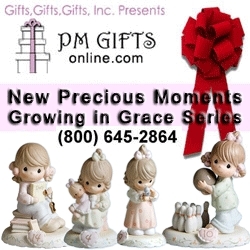 Roosevelt, NY (PRWEB) October 21, 2009
PM Gifts Online is delighted to announce the long awaited arrival of brunette figurines with the Precious Moments Growing in Grace Series. Traditionally available as blondes only, many collectors will be excited to finally see the launch of a new Precious Moments Series offering both blonde and brunette options. Precious Moments figurines have always been recognized for their unique ability to depict a feeling or emotion in the form of a gift. Now brunettes receiving the Growing in Grace Series figurines will be able to better relate with these exquisite pieces and more vividly recall their special birthdays when they admire their heartfelt, commemorative gift for years to come.
Precious Moments figurines represent the memories and warmth of life's greatest moments. And now Precious Moments has embraced the beauty of brunettes in the spectacular new Growing in Grace Series. These new figurines will help make brunette children feel more confident and view themselves as precious too. The Growing in Grace Series is here to shatter previous stereotypes about blonde being more beautiful. Beauty is in the eye of the beholder and now Precious Moments has made these amazing pieces available in both blonde and brunette.
Precious Moments Growing in Grace Figurines create a cherished tradition for the special little brown-haired girls in your life. Each year marks a milestone and the Growing in Grace Series adorably captures each of these years from the first birthday through the sixteenth. In addition to being a thoughtful and personal gift, Growing in Grace Figurines can be used as birthday cake toppers to create a Precious Moments birthday theme.
Unlike many adults, children anticipate birthdays with the utmost enthusiasm and glee. The Growing in Grace Collection adds to the excitement by commemorating the day and age in a figurine that birthday girls everywhere keep and treasure for years. Give your special girl her first Precious Moments Growing in Grace Figurine and watch her collection and enthusiasm for the whole Precious Moments Line continue to grow.
Ranging in price from $25 to $45, the Precious Moments Growing in Grace Pieces are an affordable gift every girl will be proud to display and collect. Precious Moments Growing in Grace porcelain bisque figurines can only be purchased through authorized retailers, such as PM Gifts Online.
More about PM Gifts Online:
PM Gifts Online carries a huge selection of Precious Moment Collectibles, including the all new Growing in Grace Series, Brunette Figurines, Mothers Day Precious Moments, Precious Moments Disney figurines, holiday themed collectibles, Precious Moments dolls, special collections, dated pieces, limited editions, frames, crosses, and more. Precious Moments collectibles are sorted into occasions to make the buying process easy. PM Gifts Online also offers gift certificates for those hard to buy for collectors.
###