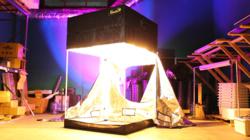 San Francisco, CA (PRWEB) July 25, 2012
The Maximum Yield Indoor Gardening Show was a huge success and turned out to be one of the largest indoor gardening shows ever staged in the United States. Purchasing managers, distributors and individual customers were impressed enough with the distinguished features of the Gorilla Grow Tents at the Maximum Yield Show that supply of the first run of the Gorilla tents is running close to selling out. These tents are thicker, stronger, more durable, offer greater insulation, and have a patent pending process that weaves infrared blocking material directly into the fabric.
Each of the tents purchased at the Maximum Yield Indoor Garden Show included the height extension set that allows for a quick addition of cubic grow space on every tent as well as the free Block Infrared roof upgrade. In addition each tent comes standard with 10" ducting holes for maximum air flow exchange inside the tent as well as ingress and egress. Another grow room design feature that led to the buying frenzy at the Maximum Yield Indoor Garden Show is the all steel pole tent frame that can support up to 300lbs of accessories and components hanging from the top of the tent structure. According to Gorilla Grow Tent sales department, there are still some tents available for purchase from the first batch. Go to gorillagrowtent.com for more information and contact credentials.