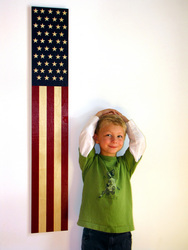 "Something as central to your family's life as the growth of your children wants to be hung in the center of your home," says McCaleb.
Barrington, NH (PRWEB) October 28, 2010
For many parents, watching their children grow up quickly becomes a fleeting memory. For artist Ellen McCaleb of Headwaters Studio, LLC, it's an opportunity to stop time with Growth Chart Art.
McCaleb crafted Growth Chart Art to offer an elegant alternative to mass-produced, cartoon-character children's growth charts that parents stop using after their children outgrow pastel pink and baby blue. By comparison, McCaleb has created an artistic line of growth charts that double as home décor and can be enjoyed for years to come. Stylish and fun, they feature black bears, red sunflowers, an antique ski, a baseball bat, the American Flag, the Texas flag and more. And while Ellen's charts go nicely in a child's room, they easily find space in communal family areas like the kitchen, living or family room. "Something as central to your family's life as the growth of your children wants to be hung in the center of your home," says McCaleb.
After leaving a corporate job in 1997, McCaleb created a niche business as a world-renowned trophy fish carver and wildlife artist. To date, Ellen has carved lifelike replicas of more than 200 fish from six continents and sixteen countries. Her work hangs in several museums.
Inspiration for Growth Chart Art came when she created a forty-eight inch carving of an Atlantic salmon from Norway. "My children were in my studio and my daughter told my two-year old son that he'd better eat a lot of protein if he wanted to grow as tall as that fish," McCaleb recalls. "We had been looking for a growth chart to match the décor in our home and a light bulb went off. Why not create one myself?"
Because fish are a theme in McCaleb's house, a muskie graced the first wooden growth chart which quickly became a hit with family and friends. McCaleb found herself creating more designs and selling her growth charts to the neighborhood and beyond. Parents soon asked her to add their children's names, and these unique growth charts took off. McCaleb now offers personalized growth charts in several fonts and colors. A customizable ruler on the side allows families of all heights to use and enjoy the growth charts. A permanent marker and holder are included.
In creating her designs, several things were important to McCaleb, an environmentalist. She wanted the charts to be made in the US, to feature her individually hand-painted artwork, and to last a lifetime. The result is that each growth chart is an art print of an original oil painting by Ellen. And these wooden growth charts are made in the USA of domestically sourced maple plywood, soy-based inks and a whey-based coating.
"To be able to put your fingers on a mark that you made at a particular point in time is a powerful way to connect with memories," says McCaleb.
Through the end of December, Ellen is giving 40% of the proceeds from the sale of her American Flag wooden growth chart to Freedom Is Not Free, a 501(c) (3) non-profit organization dedicated to assisting wounded service members and their families, and the families of the fallen. More information about Freedom is Not Free can be found at http://www.freedomisnotfree.org.
Growth Charts can be purchased from Headwaters Studio at http://www.growthchartart.com
Ellen McCaleb is available for interviews at (207) 809-2427.
Retailers are welcome to contact Ellen for information on sourcing Growth Chart Art.
###