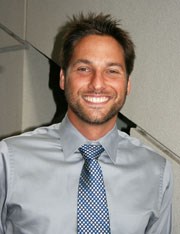 Justin is the ideal person to further develop Growthink's strong brand and client presence in Southern California
Los Angeles, CA (PRWEB) October 07, 2013
Growthink announced today that Justin Goodkind, recently Senior Manager of Strategic Relations for the Los Angeles Economic Development Corporation, has been appointed to the firm as an Engagement Advisor.
"Justin's broad and deep understanding of the Los Angeles business community, along with his unique experience in helping organizations and businesses of all sizes and types unlock their entrepreneurial potential, make him the ideal person to further develop Growthink's strong brand and client presence in Southern California," said Growthink CEO Jay Turo.
Goodkind on joining Growthink:
Q: "What originally interested you in working for Growthink?"
A: "The people and their ideas. Prior to ever considering Growthink as an employer, I was able to meet a number of team members and learn about Growthink's business. Our discussions were exciting and the desire to work together was palpable. The complimentary nature of Growthink's business and the LAEDC's mission made collaboration easy. It finally occurred to me that transitioning to Growthink might allow me to continue developing my affinity for helping business succeed."
Q: "What are you most excited about?"
A: "The chance to help entrepreneurs better understand their marketplace and opportunities for success while playing an active role in the process."
Q: "What do you hope to accomplish in your new role?"
A: "I would like to capitalize on Growthink's 14 years of proven success by continuing to develop stronger regional brand awareness in core geographic locales and industry sectors."
Before joining Growthink, Justin was responsible for overseeing the day-to-day function of the LA County Economic Development Corporation's membership program, the planning of member engagement activities, identification and solicitation of member and event sponsor prospects, as well as the planning and implementation of member meetings. Justin collaborated with senior leadership from hundredsof the region's top firms on various projects and policy initiatives.
Prior to the LAEDC, Justin worked as a consultant for Kurtzman Carson Consultants, a leading claims and noticing agent, providing administrative-support services and technology solutions to parties primarily involved in Chapter 11 bankruptcies.
Justin's experience also includes two distinctive positions working for his alma mater, Loyola Marymount University, where he spent four years coordinating a National Intercollegiate Business Ethics Competition and a year-and-a-half cultivating presidential level donors.
Often using accrued vacation, Justin has held various contract positions with ESPN X Games and Medalist Sports.
A native Californian, Justin was born in Sacramento and has spent the past 13 years living and working in Los Angeles.
He earned a Bachelor of Science degree in Economics and a Master of Business Administration degree from Loyola Marymount University.
About Growthink
Growthink helps entrepreneurs become more successful. Since 1999, Growthink has helped over 500,000 entrepreneurs to successfully start, grow and/or exit their companies. Learn more at http://www.growthink.com.