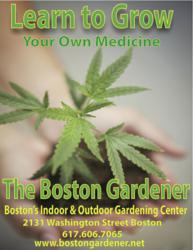 Boston, Massachusetts (PRWEB) November 26, 2012
The Hempest and The Boston Gardener are joining forces to offer the first-ever "Grow Your Own Medicine" courses in Massachusetts. Cannabis is now legal to grow for personal medicinal use and these two Boston based companies are pooling all of their knowledge in an effort to educate the public about this once forbidden plant.
The weekly classes will be offered at The Boston gardener in Boston's historic Dudley Square neighborhood. This is a hands-on experience! The Boston gardener carries the largest selection of horticultural, hydroponic and growing equipment in Boston and class participants will see it in action. Check out our video for a closer look at our location and stock.
Classes will be taught by the founder of both the Hempest and The Boston Gardener, Jonathan Napoli. Napoli is an award winning gardener and is a recipient of City of Boston Mayor Tom Menino's Gardening Contest's coveted Golden Trowel. The courses are now open for sign up; beginners are welcome. For more info go to http://www.bostongardener.net.