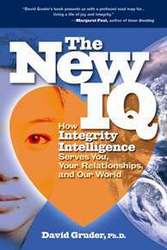 A profound roadmap for healing the blocks to living a life of joy and integrity.
Del Mar, CA (PRWEB) June 10, 2008
Finally... integrity is not only admirable but award-winning. A critically-acclaimed book that provides a practical blueprint for everyday people and world leaders to boost their integrity intelligence has recently received two awards. "The New IQ: How Integrity Intelligence Serves You, Your Relationships and Our World" by David Gruder, Ph.D. (Elite Books, January 2008, http://www.TheNewIQ.com), received its second book award less than two weeks after garnering its first earlier in May.
The initial award was announced at the Fourteenth Annual San Diego Book Awards on May 17, when The New IQ was proclaimed best book in the Health and Wellness category. Then, on May 26 in Los Angeles during the annual BookExpo America convention, organizers of the 12th annual Independent Publisher (IPPY) Book Awards, announced that The New IQ had received a bronze national award medal in the Self-Help category. This year's IPPY Awards 2008 competition, which honors the year's best independently published books, attracted 3,175 total entries, with over 2,500 entries in the national categories. Medal winners represent the cutting-edge of independent thinking and expression and came from 44 U.S. states plus the District of Columbia and U.S. Virgin Islands; 7 Canadian provinces; and 5 countries overseas.
According to Independent Publisher Managing Editor and IPPY Awards Director, Jim Barnes, "Independent authors and publishers are the conscience of our culture. It is the courage of these outspoken authors and visionary artists that the IPPY awards are designed to recognize. This year's winners truly represent the best of the best."
From the White House, to the board room, to the privacy of our own bedrooms and virtually everywhere in between, one thing our society is badly in need of is a restoration of integrity. The New IQ provides a dynamic road tested primer for restoring this disappearing virtue for the sake of our loved ones, our communities, our businesses, our society, and our own personal wellbeing.
By reviewing the wealth of psychological and spiritual wisdom from across history and culture, secular and sacred aspects of human experience, psychologist David Gruder identifies the three core human drives at the heart of integrity: authentic self-expression, connection with others, and making a positive difference in the world. He streamlines this breadth of information into a user-friendly guide for integrating personal, relationship, leadership and integrity development.
The New IQ provides a practical antidote to the self-indulgence and abrogation of social responsibility that are the underlying cause of today's massive absence of integrity at all levels of society. Even before its official release, this far-reaching book had been embraced by leaders across the fields of business, international relations, education, religion, health and psychology, including:
"This is the book that can spearhead a massive transformation in our individual, relational and societal integrity and wholeness." --Constance Wells, Senior Vice-President, Walt Disney Studios
"A profound roadmap for healing the blocks to living a life of joy and integrity." --Margaret Paul, Ph.D., Author of Do I Have To Give Up Me To Be Loved By You? and Inner Bonding
"Leaders need an integrity check-up and Dr. Gruder's simple yet powerful integrity model provides a much-needed shot in the arm." --Ken Blanchard, Co-author of Leading at a Higher Level
"If you only read one book this year about your own development as a truly three-dimensional human being, this is the one!" --George J. Pratt, Ph.D., Chairman, Psychology, Scripps Memorial Hospital
Dr. Gruder provides keynotes, training and consulting worldwide in integrity-centered personal, relationship and leadership development, for the public, educational institutions, businesses, helping professionals, and leaders. His first book, Sensible Self Help, won two book awards, including Colliers 1997 Mental Health Book of the Year.
Visit TheNewIQ.com for a downloadable press kit, and to learn more about Dr. Gruder and "The New IQ: How Integrity Intelligence Serves You, Your Relationships and Our World" plus its companion, "The New IQ Integrity Makeover Workbook," which is a ten module self-guided curriculum for integrating the principles and skills in The New IQ into one's daily life.
Dr. David Gruder is available for interviews and comments. He has been interviewed on scores of local and syndicated radio shows, from conservative to progressive, throughout the United States and Canada, including CBS (New York), NPR (Los Angeles), Pacifica (Los Angeles), Air America, Corus Network (53 stations inc. Canada's top ten markets) and other major markets including Denver, Atlanta, Boston, and more. The flexibility of his current schedule frequently allows him to appear as a last minute guest. For additional information, a review copy of The New IQ, or to make interview requests/booking arrangements, please contact (Ms.) S.A. "Sam" Jernigan, Renaissance Consultations, sam@MarketingAndPR.com, cell: 530.362.1339 (PT)
Reading level: Age 15 through Adults, Paperback: 308 pages, Publisher: Elite Books / Energy Psychology Press (January, 2008). Language: English, ISBN-13: 978-1604150131, Product Dimensions: 8.8 x 5.9 x 0.7 inches.
###