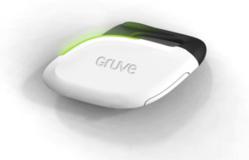 This product works and it's something almost everyone can use—not just people who are committed to high intensity exercise.
Minneapolis, MN (PRWEB) April 26, 2012
The Gruve®, a core solution from Gruve Technologies, Inc. a leading provider of scientifically proven health and weight loss products, continues to be featured in online and print articles by major news outlets including the Los Angeles Times, as public awareness expands on the scientifically proven weight loss and health benefits of increasing Non Exercise Activity Thermogenesis (N.E.A.T.). The popularity centers on The Gruve's success in helping people lose weight and keep it off.
A recent article by the Los Angeles Times outlined for readers the simplicity and proven benefits of using the Gruve as a means to lose weight. It highlighted research from America's leading obesity experts that contributed to the development of this technology along with reiterating their findings that increasing N.E.A.T in daily life is more effective than short term intense exercise for sustainable weight loss and a dramatic improvement in overall health.
The article provided detailed information on the physical cues the device has to keep users on track—color changing calorie burn status lights, vibration to remind users to move, and interactive website visuals. These physical cues help the users to modify their behavior over time and provide a sustainable path to successful weight reduction, maintenance and improved health.
"The attention this product is getting from the media is warranted. This product works and it's something almost everyone can use—not just people who are committed to high intensity exercise," says Dr. Robert Gauthier, CEO, Gruve Technologies, Inc. "We have used scientific research to develop a cutting-edge device and bundled it with a personalized program to offer people a practical weight loss solution that fits in with their current lifestyle."
The Gruve® is a total body motion activity monitor that incorporates the proven N.E.A.T. medical standard for weight loss, found after 10 years of scientific research. The Gruve is unique in the market place—no other activity monitor is accurate enough to measure 98% N.E.A.T. activity or can provide real-time information on daily N.E.A.T. activity.
About Gruve Technologies, Inc.
Gruve Technologies, Inc. provides scientifically validated weight loss and wellness products designed to provide a long-term sustainable path to better health. Headquartered in Minneapolis, MN, Gruve develops innovative technology and products based on cutting edge medical research that are proven effective to modify behavior and aid in weight loss. For more information, visit http://www.gruvetechnologies.com.