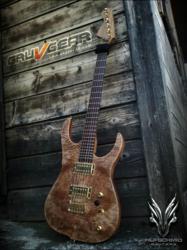 I really enjoy the simplicity of the FretWraps and they're very easy to set up. Gruv Gear has really done a great job in designing them and I'm proud to announce this partnership.
Orange County, CA (PRWEB) June 01, 2012
Luthier Patrick Hufschmid crafts his 6, 7, and 8 string guitars by hand, and has been attracting high-profile and discerning players worldwide who have also been searching for the perfect string dampening solution that the FretWraps now provides. For many years, guitar and bass players have been resorting to hair ties and "scrunchies" to use on their instruments to aid in reducing string noise and vibrations when performing or recording. This workaround has donned the guitars of world-class musicians including Anthony Wellington (Victor Wooten Band), Jon Myron Clark (Michael Jackson), Norm Stockton, Tahiti's Florent Atem (inventor of Slide Picking Technique), Portugal's Fred Brum, Colombia's Leonardo Guzman, and UK's Jamie Humphries. Each of these players have shared the same dilemma in the past -- They have used the same hair tie method for years simply because there were no professional solutions to address the need -- Until Gruv Gear introduced the FretWraps. Spanning nearly a year of development and material selection, the simple but clever device not only performs exactly as it should by dampening strings evenly and consistently, but also allows it to be slid out of the way very quickly when not in use. The FretWraps String Muters are also highly flexible, adjustable and easy to remove via a hook-and-loop system, and currently come in three sizes to accommodate most guitars and basses. FretWraps don't require any special or invasive installation, and are instantly usable out of the box.
Today, all the above players heartily endorse the FretWraps and use them regularly. The accessory has proved to be an indispensable tool not only on live situations, but particularly during recording sessions where proper string noise control can effectively reduce efforts and valuable studio time by aiding players to record cleaner takes the first time around. FretWraps also make for a much more professional look and statement, especially discerning buyers of instruments like Hufschmid Guitars. Investing in these high-end guitars reflect the player's taste and passion for fine workmanship and aesthetics, and for the first time in the history of the Swiss company, a worthy accessory of the FretWraps will now grace every instrument they ship.
Patrick notes, "The great thing about the FretWraps is that you don't have to use girl accessories any more to mute the strings, just watch all those players who want to look super serious and who are still using a hair scrunchie on their guitar! I really enjoy the simplicity of the FretWraps and they're very easy to set up. Gruv Gear has really done a great job in designing them and I'm proud to announce this partnership."
For more info and to view demos of the FretWraps, visit http://www.gruvgear.com/fretwraps
About Gruv Gear
Gruv Gear designs and builds innovative utility gear and accessories for creative professionals, including musicians, DJs, photographers, cinematographers, film makers, audio/video engineers, and media crews. Founded by a musician and product designer, the California-based company has been seeing tremendous forward momentum and widespread acclaims in a very short time, with global patents pending for its current innovations and more game-changing products slated for this year and beyond.
Gruv Gear continues to flex its marketing muscle with grassroots clinics and events, exclusive online campaigns, and major artist endorsements. The company has already made avid endorsers out of some of the world's top artists, including musicians from American Idol, Cirque du Soleil, and the Michael Jackson "The Immortal" World Tour. Other world-renowned endorsers include Peter Erskine (multi Grammy-winning drummer, Weather Report, Chick Corea, Yellowjackets), Anthony Wellington (Victor Wooten Band), Paul John, Jr. (Alicia Keys, Nelly Furtado), Gerald Veasley (Joe Zawinul, Electric Mingus Project), Norm Stockton (Lincoln Brewster), DJ Icy Ice (World Famous Beat Junkies, Black Eyed Peas Parties, Grammy After Parties, Manny Pacquiao After Parties), and Ray Roman (award-winning cinematographer and named one of the top 25 studios in the world).
Gruv Gear products are currently distributed in the USA by Musical Distributors Group, in Europe by Adam Hall GmbH, and in Canada by Heartbeat Distributors Ltd.