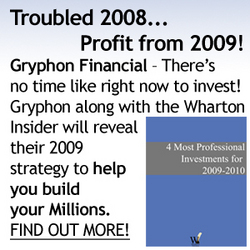 The 4 Most Professional Investments for 2009-2010
Ferndale, WA (PRWEB) January 7, 2009
Gryphon Financial, a financial newsletter leader, asks, "How many of you prayed that you would win the lottery or a sweepstakes this year? You prayed and prayed, and asked and asked for money to come your way. You asked, God, help money find its way toward me and my family. I'm a good person, I deserve it. Why are you not listening?"
Well… here's the answer you are all looking for, "You have to help yourself to allow me to help you - buy the ticket, buy into an idea, meet me in the middle, and it shall become your reality."
PICKS - WATCH or BUY?
Gryphon also states, "In order to be able to take advantage of wealth building techniques, you have to buy into the market first, right? Sitting on the sidelines and waiting for the craziness to expire isn't going to bring you the wealth you so wish for and deserve. Ignoring the advice of guru's and top investors isn't helping your cause either. Why or how do you think these people became top investors and guru's in their field? They listened to the masters before them!"
In one of Gryphon Financial's latest e-books "The 4 Most Professional Investments for 2009-2010", author Jeanne Grecco, accompanied by Mr. Michael Warren V.P. of Gryphon Financial plans out a healthy strategy for any investor to profit from right now. After 18 years Gryphon Financial has now formed its own publishing firm, The Wharton Insider. Taking their financial newsletter and catapulting it into investment literature and must read investment situation s to help any investor make tremendous amounts of money. There will be more to come from Wharton.
Kenneth Maseka, founder and president of Gryphon Financial, is not only widely recognized as one of the best traders and investors of his generation, but he is also well-known for his hedge fund management skills. His impeccable reputation for all the right moves has made Gryphon Financial the success it has become today. Kenneth's advice for 2009 is simple, "if you have the money to invest, now is the right time. History tells us over and over time is of the essence in the market."
Kenneth Maseka and Michael Warren who have out ran the markets for years in the Gryphon financial newsletters and with their hedge funds both agree, "If you're looking for the right time to jump in - that past already - but the next best time is right now."
Gryphon financial newsletter leader challenges by stating, "Still not sure? Take a step back in market time and look at particular companies that were way above 25% or more within one year. I am sure you'll agree many investors must have been worried the greats would fall. If you held on long enough, despite a bear market, returns have been solid."
History will always show you that when you invest in solid businesses with great management and you hold onto the investments long-term, adding money to them along the way - you will succeed.
Michael Warren and Kenneth Maseka tell their investors this daily. As members you know who those solid companies to invest in right now, with new recommendations daily, e-books and special reports providing you that rain jacket for this gloomy forecast. They have been doing this for a long, long time. On an average they are beating the market over 50%.
Take a look and see all the Gryphon Financial has to offer at http://www.gryphonfinancial.net.
For more information please contact Jeanne Grecco at Gryphon Financial at 1-800-828-9921.
# # #