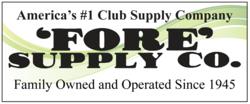 Our products are packaged for a variety of uses ranging from single-use disposal packaging to bulk dispensers
Tampa, FL (Vocus/PRWEB) April 07, 2011
GSA Application Services is pleased to announce that 'Fore' Supply Company® has been awarded a GSA Schedule 73 contract and are now certified to provide goods & services to the Federal government. 'Fore' Supply Company® will place their extensive personal care products, grooming and shoe care products on GSA Advantage!®, the government's electronic ordering system (http://www.gsaadvantage.gov). Federal officials appreciate GSA Schedules as a means of procuring goods and services, knowing that companies on GSA Schedules have been qualified by the General Services Administration (GSA).
"With this contract award, we plan on expanding our distribution of exclusive skin and shoe care products to the Department of Defense and their bases around the world as well as the numerous facilities managed by the Department of Corrections," stated Brad Thein, President of 'Fore' Supply Co.® "Our products are packaged for a variety of uses ranging from single-use disposal packaging to bulk dispensers," Thein continues, "we're also a major supplier of sanitation products and can provide clients with cost-effective cleaning solutions with door-to-door service and expedited delivery."
GSA Application Services managed the tender process on behalf of 'Fore' Supply Co.® facilitating the application submission and negotiations with government buyers at the GSA. "We are committed to assisting small and medium-sized businesses with effective, turn-key solutions that enhances their competitive edge in gaining access to government spending," said Joe Glennon, Chief Operating Officer.
About 'Fore' Supply Company®:
For over 6 decades, 'Fore' Supply Co.® has distributed amenities and a complete line of locker room supplies to Country Clubs, Hotels, Resorts, Spas, Fitness Centers, Professional and College Sports Teams. As the country's leading amenity/locker room supply distributor, we proudly serve over 5,000 customers. Our signature line, "CLUB CLASSIC," is being used today by many of the nation's most discriminating clubs as well as many private residences and businesses across the US. We feature a complete line of brand name products, first-aid supplies, shoe care needs, disposable paper goods, maintenance and janitorial items. Visit http://www.foresupply.com for more information.
About GSA Application Services:
GSA Application Services, a division of Federal Verification Co., Inc., is a premier GSA advisory & solutions firm. With over 400 schedules awarded to date, GSA Application Services leverages its industry-leading experience and in-house staff of specialists to deliver professional "cradle-to-grave" GSA services & solutions to businesses nationally. Visit http://www.gsaapplicationservices.com for more information.
CONTACTS:
For 'Fore' Supply Company®: Brad Thein, President at 800.543.5430
For GSA Application Services: George Louli, MarCom Manager at 813.792.4600
# # #