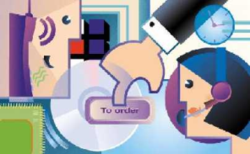 We've survived the Mega-Office-Store threat by being more nimble and customer focused.
Tampa, FL (PRWEB) May 10, 2011
GSA Applications is pleased to announce that Haskell New York Inc. has been awarded a GSA Schedule 75 contract and is now certified to provide office supplies, furniture, restroom supplies and AbilityOne products to the Federal government. Haskell New York Inc. is placing its extensive Office Supply and Furniture offering on GSA Advantage!®, the government's electronic ordering system (http://www.gsaadvantage.gov). Federal officials appreciate GSA Schedules as a means of procuring goods and services, knowing that companies on GSA Schedules have been qualified by the General Services Administration (GSA).
"This schedule award is a real victory for smaller, family operated businesses" stated Matthew Isaacson, Executive VP of Haskell New York Inc. "We've survived the Mega-Office-Store threat and economic downturns by being more nimble and customer focused. This Schedule 75 Contract award validates much of our hard work. The GSA has vetted us financially, through Dun and Bradstreet supplier performance reviews as well as through pricing comparisons." Lawrence Isaacson, Senior Vice President added: "We were early adopters of electronic ordering systems using traditional EDI connections and CD Catalogues. Since then we have self-financed and developed our own proprietary system, and Haskell New York Inc.'s website, http://www.OfficeSalesUSA.com, has evolved into a completely modern, state of the art Internet ordering platform. Coupled with our sophisticated search engine optimization, high page rank and our secure shopping environment, our footprint on the Web gives us visibility way out of proportion to our 'small business' designation."
About Haskell New York Inc.:
Haskell New York Inc. was established 1928, is headquartered in New York City, and offers next day service throughout the country. The company provides a wide range of discounted office supplies and furniture and a well rounded assortment of environmentally sensitive products for the home and office. Haskell New York Inc. is proud of the loyalty of its customers, many of whom have been with the company for decades. OfficeSalesUSA.com is Haskell's online presence and features no hassle online returns, searchable history files for easy re-creation of old orders, informative product landing pages and a Virtual Purchasing System (VPS) that adapts to even the most demanding of accounts requiring online manager approvals. Haskell's VPS allows the assignment of unique spending limits to any user above which approval is necessary. Management's primary objective is to have their clients benefit from the pricing and service efficiencies that result from being a part of Haskell's extended Internet family of accounts. Visit http://www.officesalesusa.com for more information.
About GSA Applications:
GSA Applications, a division of Federal Verification Co., Inc., is a premier GSA advisory & solutions firm. With over 425 schedules awarded to date, GSA Applications leverages its industry-leading experience and in-house staff of specialists to deliver professional "cradle-to-grave" GSA services & solutions to businesses nationally. Visit http://www.gsaapplications.com for more information.
CONTACTS:
For Haskell New York Inc.: Lawrence Isaacson, Senior Vice President at 646.442.4243
For GSA Applications: George Louli, MarCom Manager at 813.792.4600
# # #