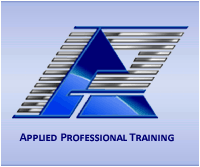 We're very excited with our GSA Award...public service employees will be able to receive the same level of advanced skills training and industry certifications that we provide to private sector professionals
Tampa, FL (PRWEB) May 10, 2011
GSA Applications is pleased to announce that Applied Professional Training (APT) has been awarded a GSA Schedule 874 contract and are now certified to provide goods and services to the federal government. Applied Professional Training will now place their extensive professional training services on GSA Advantage!®, the government's electronic ordering system (http://www.gsaadvantage.gov). This GSA contract award will facilitate federal employee in-service training within emerging fields including Electrical Power System Operations; Traditional and Renewable (solar and wind) Power Production, Smart and Micro-Gird Technologies, Building and Home Energy Consumption Management, Electrical Safety, and Telecommunications.
To foster continued growth and interest in emerging disciplines, Applied Professional Training will partner with the Illinois Institute of Technology and offer an on-site Smart Grid Seminar to highlight recent developments and technologies currently being deployed throughout the nation.
"We're very excited with our GSA Award as it will open new markets for our company and provide public sector employees with advanced educational options featuring an up-to-date, highly relevant curriculum," stated Steve W. Blume, President, CEO and Founder of APT. He continues: "With the heightened interest in smart grid technologies, renewable energy, fiber-optic, and wireless telecommunications, public service employees will be able to receive the same level of advanced skills training and industry certifications that we provide to private sector professionals throughout the country." APT has established themselves as leaders in advanced skills-oriented technology training programs. They pride themselves with empowering students with the progressive skills required to compete in an ever-evolving technical world.
GSA Applications managed the tender process on behalf of Applied Professional Training facilitating the application preparation, submission and negotiations with government buyers at the GSA. "We are committed to assisting small and medium-sized businesses with effective, turn-key solutions that enhances their competitive edge in gaining access to government spending," said Joe Glennon, Chief Operating Officer.
About Applied Professional Training:
Applied Professional Training, Inc. (APT), founded in 1993, is a nationally accredited technical training provider for the telecommunications, electric power, and renewable energy industries throughout the United States and Internationally. APT distinguishes themselves in technical training circles by providing in-company training to corporate partners. In fact, over 80% of APT's training classes are given at the employer's place of business. Supplementing this unique corporate service, APT offers high quality instructor-led, web-based, and online training programs with complete training assessment, tracking, and audit management systems. Visit http://www.aptc.edu for more information.
About GSA Applications:
GSA Applications, a division of Federal Verification Co., Inc., is a premier GSA advisory & solutions firm. With over 425 schedules awarded to date, GSA Applications leverages its industry-leading experience and in-house staff of specialists to deliver professional "cradle-to-grave" GSA services & solutions to businesses nationally. Visit http://www.gsaapplications.com for more information.
CONTACTS:
For Applied Professional Training: Steve W. Blume, President & CEO at 760.612.8488
For GSA Applications: George Louli, MarCom Manager at 813.792.4600
# # #