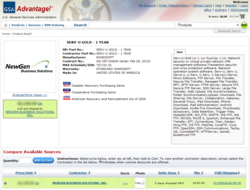 NewGen is the ideal federal partner and we look forward to working closely with them on GSA Advantage acquisitions.
Warrenville, IL (PRWEB) October 31, 2012
Today RhinoSoft, a leading provider of secure file transfer technology, announced that its Serv-U FTP Server and FTP Voyager FTP Client are now available from the GSA Advantage program through NewGen Business Solutions, a twenty-year veteran of enterprise software deployments.
"NewGen has been providing integrated ERP solutions for years, and bulk data transfers are a natural fit in those environments," said RhinoSoft VP Jonathan Lampe. "Our solutions have evolved beyond FTP into managed file transfer, web transfers, and mobile interfaces, and this partnership allows NewGen to provide a wider range of solutions to its many federal, state, local, and private sector customers."
"RhinoSoft's FTP solutions provide solid support to our best of breed pledge: to only support tools that are lean and fast in their execution of business processes," said President and CEO of NewGen Business Solutions Richard Kostopoulos. "We are very excited to distribute and support RhinoSoft products and look forward to a long relationship with our new partner."
"When we rearchitected our Serv-U FTP Server and our FTP Voyager FTP client, technology important to federal buyers like IPv6, 64-bit computing, mobile device access, and multiplatform deployments guided the design," added RhinoSoft President Mark Peterson. "We are thrilled that NewGen may now provide this technology to federal buyers and everyone else with access to the GSA."
Today RhinoSoft products are used by all branches of the US military, most Federal executive departments, the US Postal Service, and dozens of other federal agencies and installations. Both Serv-U and FTP Voyager use FIPS 140-2 validated cryptography and both hold a Certificate of Networthiness from the U.S. Army.
Previous purchases of RhinoSoft software have usually been through resellers working on specific contracts or direct sole-source awards. The addition of Serv-U and FTP Voyager to GSA Advantage will make it easier for governments to obtain and deploy innovative secure file transfer technology through NewGen Business Solutions.
RhinoSoft (rhinosoft.com) is the global leader in affordable file transfer, with more than 90,000 business and government customers in 90 different countries. Its award-winning and U.S. Army certified Serv-U FTP server software for Windows and Linux and FTP Voyager FTP client software support FTP, SFTP, FTPS and web-based HTTP/S transfers, while embracing emerging technologies such as mobile computing, IPv6, native 64-bit computing and UTF-8/Unicode internationalization.
NewGen Business Solutions (newgennow.com) is a veteran-owned small business that sells, implements, and supports quality software, with specialties in enterprise solutions (ERP, Accounting, MRP, Distribution, Manufacturing and CRM) developed over 20 years. NewGen provides software and services to government buyers through GSA Advantage (GSA Contract #GS-35F-0266W) and other vehicles.