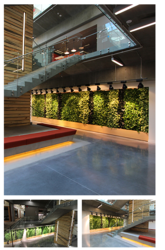 The green wall accents the atrium and together with the light brings a unique energy into the building for our team members
Vernon, B.C. (PRWEB) November 13, 2012
GSky™ Plant Systems, Inc., a leading provider of vertical green walls completed the installation of a Versa Wall™ for Kal Tire's new Vernon Office located in Vernon, B.C. Kal Tire employs more than 5,000 team members, is Canada's largest independent tire dealer with over 240 stores servicing commercial and retail customers, operates on over 150 mines sites in 20 countries, and is entirely Canadian owned. The installation of 254 square feet of green wall composed of ficus and lipstick plants has enhanced Kal Tire's new atrium entrance into a welcoming focal point for visitors and team members alike.
David Penner, project manager, design and construction for Kal Tire states, "One of the highlights of the new Kal Tire Vernon Office building is the large skylight situated over the atrium which allows for natural sunlight to enter the building. The green wall accents the atrium and together with the light brings a unique energy into the building for our team members."
The new office space has many green features including pine beetle wood interior finishing, large natural windows and skylights, and now an impressive GSky Versa Wall™. The Versa Wall™ uses interior tropical plants that have been selected specifically for their adaptation and ability to thrive, adding a softer side to the space by drawing contrast from the weight of the concrete building structure.
"We wanted to keep it soft and personal, that's when the green wall concept was introduced, "said Tara Lingle, designer from BOX Interior Design.
GSky's Versa Wall™ has a recirculating irrigation system that is 100% water efficient and self-contained making the system suitable for any interior wall without the worry of spillage. The Versa Wall™ is naturally beautiful, eco-friendly, customizable, durable and economical offering flexible installation options and a variety of plant selections.
GSky hopes to extend its reach in the region to support the installation and maintenance of the beautiful green walls, while promoting a greener working space in an urban environment.
For photos of the green wall installation, please visit gsky.com/projects/kaltire/
About GSky™ Plant Systems, Inc:
Founded in 2004, GSky™ Plant Systems, Inc. remains the leading provider of vertical green walls in North America. The business was founded based on the explosive growth of green technology, including green wall and roof systems in Asia. GSky currently offers three products, the Pro Wall™ System, Versa Wall™ System and the Basic Wall™ System. Each product is unique in terms of design flexibility, installation location versatility, plant selection variety, desired size, cost, coverage time-line, and system components. GSky also offers a suite of services including maintenance, remote monitoring, and consulting as full-service contracts or à la carte. GSky strives to make plant systems more accessible and functional in urban environments while having a net positive impact on the environment. For more information visit us at http://www.GSky .com