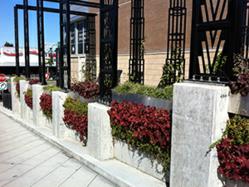 The client wanted the shopping centre to be more of an experience, a lifestyle, a place where people want to meet and spend the day
Saanich, Greater Victoria (PRWEB) November 07, 2012
GSky™ Plant Systems, Inc., a leading provider of vertical green walls completed the installation of Pro Wall™ in the sophisticated open-air Uptown Shopping Centre in Saanich, Victoria. Uptown is the largest regional centre with over one million square feet, offering first-class office space, restaurants and deluxe amenities to its patrons.
The owner of Uptown in Victoria wanted to create a space that promotes a green sustainable vision with living architecture, incorporating the green walls was the most visible way for the public to perceive the centre as a green building. GSky was involved with both the first and second phase of the building plan for Uptown with the intention of helping them achieve their vision. The Pro Wall™ installation completed in the first phase of the project was so successful, the owner included GSky in the second phase to create even more green space in the urban centre.
"The client's vision for the project from day one was meeting LEED (Leadership in Energy and Environmental Design) and include many green sustainable features. The client wanted the shopping centre to be more of an experience, a lifestyle, a place where people want to meet and spend the day." stated Alain Lamontagne, Intern Landscape Architect, Durante Kreuk LTD.
Indeed, Uptown is registered with the certification goal of LEED Neighbourhood Development Gold, along with incorporating a broad spectrum of sustainable initiatives. Catherine Reimer, Project Coordinator, Magil & Carillion said, "The Green Wall is a nice idea and adds additional greenery."
The Pro Wall™ is the most sustainable, comprehensive and widely used system in the industry. Pro Wall™ is specifically designed to withstand the rigours of an outdoor environment remaining beautiful for years, with noticeable color changes of the plants throughout the seasons making the wall incredibly dynamic.
About GSky™ Plant Systems, Inc:
Founded in 2004, GSky™ Plant Systems, Inc. remains the leading provider of vertical green walls in North America. The business was founded based on the explosive growth of green technology, including green wall and roof systems in Asia. GSky currently offers three products, the Pro Wall™ System, Versa Wall™ System and the Basic Wall™ System. Each product is unique in terms of design flexibility, installation location versatility, plant selection variety, desired size, cost, coverage time-line, and system components. GSky also offers a suite of services including maintenance, remote monitoring, and consulting as full-service contracts or a la carte. GSky strives to make plant systems more accessible and functional in urban environments while having a net positive impact on the environment. For more information visit us at http://www.GSky .com