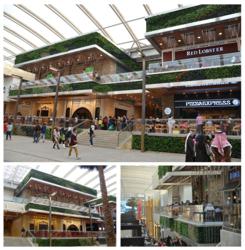 There's not many green walls in the Middle East at Present, and even fewer in such a public space. This green wall is split horizontally, which is also quite special and hard to miss. Visitors to the mall appreciate and admire the green wall
Kuwait City, Kuwait (PRWEB) January 15, 2013
GSky Plant Systems Inc., a leading provider of vertical green walls in North America, and now the Middle East has accomplished by far the largest international installation of an indoor green wall at The Avenues, Kuwait's most prestigious landmark to date developed by Mabanee Company S.A.K., and the country's largest shopping and leisure destination located in the Al-Rai industrial area. Standing at over 5200 square feet, the Versa Wall™ located on Grande Avenue is a forest wonderland providing a refreshing escape from the fast-paced urban environment.
Comprised of seven multiple design districts inspired by classical and modern schools of architecture, The Avenues includes: 1st Avenue, 2nd Avenue, Prestige, Grand Avenue, SoKu, The Mall, and The Souk. Each district is epitomized by its various feel and character influenced by the world's largest and oldest cities. Grand Avenue district is comparable to The Avenues des Champs-Élysées; Paris's most famous retail street enriched with luxury designer boutiques, cinemas and cafes bordered by greenery. Likewise, Grand Avenue has a tree-lined boulevard, and striking Versa Wall™ that brings contrast and liveliness to the large single mass façade of the building.
"The green wall is a captivating art piece that demands your attention! It takes you beyond the visual experience, where one can smell, touch, and interact with the green wall." –Jassem Al Muqbel, Project Studies & Design Manager, Mabanee Company S.A.K.
The design has a free flowing pattern incorporating more than 25,000 fresh plants, displaying a mirage of green, sky blue, red, pink, and yellow hues that radiate from the building's façade.
With regards to air quality, The Avenues has a fully compliant HVAC-system designed to improve indoor environments. The recirculating air in the building also flows over the surface of the green wall, with the plants serving as a complimentary living, breathing air-filtering system to remove indoor air pollutants, increase energy-rich oxygen, and reduce carbon dioxide.
Additionally, the green wall creates a more pleasant environment by softening the boulevard, while adding the appeal of a forest path surrounded by natural greenery, instead of an 'urban street.'
"There's not many green walls in the Middle East at present, and even fewer in such a public space. This green wall is split horizontally, which is also quite special and hard to miss. Visitors to the mall appreciate and admire the green wall; perhaps it'll inspire more green walls throughout the region."—Gustaf Hasselgren, Project Coordinator, PACE Kuwait.
"This Versa Wall™ is a testament to GSky's growing success; with our first major project internationally, as well as another record-breaking indoor green wall. We're very honored to be part of an All-star team, doing our part to establish The Avenues as a world-leading shopping center that will attract investments from all over the world." —Chad Sichello, President, GSky Plant Systems, Inc.
About GSky Plant Systems, Inc.:
Founded in 2004, GSky Plant Systems, Inc. is a leading provider of vertical green walls in North America. The business was founded based on the explosive growth of green technology, including green wall and roof systems in Asia. GSky currently offers three green wall systems, the Pro Wall™, Versa Wall™ and the Basic Wall™. Each system is unique in terms of design flexibility, installation location versatility, plant selection variety, desired size, cost, coverage time-line, and system components. GSky also offers a suite of services including maintenance, remote monitoring, and consulting as full-service contracts or à la carte. GSky strives to make plant systems more accessible and functional in urban environments while having a net positive impact on the environment. For more information visit us at http://www.gsky.com