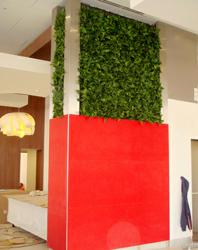 The Green Wall adds a unique urban touch to our new property. It provides the greenery needed in a lobby, but in a modern aesthetic completely unexpected and different from potted plants.
Vancouver, BC (PRWEB) June 05, 2013
GSky Plant Systems, Inc., a leading provider of living Green Wall systems in North America, recently installed a 106 sq. foot Versa Green Wall in a new dual-brand hotel, the Hampton Inn & Suites and Homewood Suites by Hilton Denver Downtown-Convention Center. The property, which includes 302 rooms and 4,355 sq. ft. of meeting space, will split a lobby between the two brands. This shared lobby is where the beautiful living Green Wall has been installed, greeting all guests with alive, vibrant greenery and a connection to nature.
"The Green Wall adds a unique urban touch to our new property," said Tom Sprankle, general manager of the Hampton Inn and Suites and Homewood Suites by Hilton Denver Downtown-Convention Center. "It provides the greenery needed in a lobby, but in a modern aesthetic completely unexpected and different from potted plants."
Chad Sichello, President of GSky, believes green walls are the future of hotel design, as many hotels are focusing on sustainable building design and making a green impression. "Hotels are increasingly implementing Green Walls into their design for the wow-factor and to create a connection to nature indoors," Sichello says. "And the many other benefits of green walls make them especially appealing."
Aside from the stunning visual appeal of a green wall, hotels with green walls can benefit from improved air quality – Green Walls improve the air quality indoors and out, naturally filtering out air. They act as natural sponges for dust and toxins in our air. They increase energy-rich oxygen and reduce CO2: the process of photosynthesis consumes CO2 and releases O2, which gives people more energy-rich oxygen.
Hotel guests and employees can also reap the health and wellness benefits of being exposed to a Green Wall. It's proven that greenery can improve a person's health and well-being. It can also contribute to stress reduction & relaxation. Exposure to plants can leave people feeling more relaxed, calm and less stressed. They help ease physiological and psychological pressures of city life by providing a spiritual and physical connection to nature. The beauty of a Green Wall can rejuvenate our minds and greatly reduce physical fatigue.
Many hotels choose GSky's Versa Wall System because it is user-friendly and easy to install and maintain. The Versa Wall remains in season year-round, as plants are interchangeable according to season. The Versa Wall employs an indoor system that is completely self-contained and remains in great condition at all times. This means no soil spills out of the wall and no water spills forward. Aside from being user-friendly and clean, the Versa Wall is also water efficient - its standard design and installation method is to include tanks directly below or behind the wall to recapture and recirculate every ounce of water provided to it. The only water that is used in a Versa Wall is that which is used by the plants or through evaporation, making it 100% water efficient.
About Hampton Hotels
The Hampton Hotels brand, including Hampton Inn, Hampton Inn & Suites and Hampton by Hilton, is an award-winning leader in the mid-priced hotel segment, serving value-conscious and quality-minded travelers. With over 1,900 properties totaling more than 185,000 rooms in 11 countries, Hampton Hotels is part of Hilton Worldwide, a leading global hospitality company. All Hampton hotels offer comfortable surroundings and a friendly service culture, defined as "Hamptonality," delivered by over 50,000 Team Members and supported by the 100% Hampton Guarantee®, reinforcing its commitment to providing excellent service to both business and leisure travelers alike. High-quality and consistent accommodations and amenities such as free Wi-Fi, free hot breakfast, and the latest technology and innovations, such as multi-unit Power Cubes and the brand's signature Clean and Fresh Hampton Bed®, combined with numerous locations worldwide, have made Hampton a leader in its segment and one of the fastest growing hotel brands globally. Please visit http://www.hampton.com, http://news.hampton.com or hamptonoffers.com for more information and connect with Hampton Hotels online at faceboook.com/Hampton, twitter.com/Hampton or youtube.com/Hampton.
About Homewood Suites by Hilton™
Homewood Suites by Hilton is an upscale, all-suite, residential-style hotel with more than 300 hotels open in the United States, Mexico and Canada. Voted "Top Extended-Stay" hotel by J.D. Power and Associates, Homewood Suites by Hilton is the first choice for guests seeking comfortable, home-like accommodations when traveling for an extended stay. Beyond its spacious suites, which feature separate living and sleeping areas, and fully equipped kitchens with full sized refrigerators, additional value-driven amenities include: complimentary Internet, a daily full-hot breakfast, and healthy, delicious evening meals with drinks every Monday-Thursday. The brand is focused on guest satisfaction and stands behind each stay with its 100% Suite Assurance® guarantee. For more information, please visit http://www.homewoodsuites.com.
About GSky Plant Systems, Inc.
Founded in 2004, GSky™ Plant Systems, Inc. remains the leading provider of vertical green walls in North America. The business was founded based on the explosive growth of green technology, including green wall and roof systems in Asia. GSky™ currently offers three products, the Pro Wall™ System, Versa Wall™ System and the Basic Wall™ System. Each product is unique in terms of design flexibility, installation location versatility, plant selection variety, desired size, cost, coverage time-line, and system components. GSky™ also offers a suite of services including maintenance, remote monitoring, and consulting as full-service contracts or a la carte. GSky™ strives to make plant systems more accessible and functional in urban environments while having a net positive impact on the environment.
For more information about GSky Green Walls, visit http://www.gsky.com.
Like us on Facebook at http://www.facebook.com/gskyplantsystems.
Follow us on Twitter @gskygreenwalls.