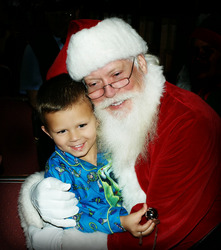 The 1 ¼ hour round-trip excursion comes to life as the train departs the Bryson City depot for a journey through the quiet wilderness for a special visit at the North Pole
Bryson City, NC (PRWEB) November 12, 2010
In 1985, Chris Van Allsburg wrote The Polar Express, a story of a magical train ride on Christmas Eve. The train takes a young boy to the North Pole to receive a special gift from Santa Claus. "The Polar Express," published by Houghton Mifflin Company, has become a contemporary holiday classic, with over 6 million copies sold worldwide. In 2004 Warner Bros. Entertainment, Inc. reunited the Academy Award-winning team of Tom Hanks and director Robert Zemeckis in an inspiring animated version. That same year GSMR began operating The Polar Express based on the storybook version. Over 40,000 passengers rode The Polar Express with the Great Smoky Mountains Railroad in 2009.
The 1 ¼ hour round-trip excursion comes to life as the train departs the Bryson City depot for a journey through the quiet wilderness for a special visit at the North Pole. Guests on board will enjoy warm cocoa and a treat while listening and reading along with the magical story. Children's faces show the magic of the season when the train arrives at the "North Pole" to find Santa Claus waiting. Santa will board The Polar Express, greeting each child and presenting them with a special gift as in the story, their own silver sleigh bell. Christmas carols will be sung as they return back to the Bryson City Depot. The Polar Express begins November 5th and operates through December 24th.
New for 2010! The Great Smoky Mountains Railroad is proud to announce its partnership with Tom Sawyer Tree Farm from Cashiers, NC. Enjoy getting into the holiday spirit while choosing from a wide array of fresh fragrant Fraser Fir Christmas Trees, all conveniently located at the Bryson City depot! Tom Sawyer has invested more than 30 years into growing and producing the best quality tree's and greenery. Each tree is hand cut and fresh on the tree lot, all with excellent color and dense foliage! It's sure to be a treat to end your magical train ride with purchasing your holiday tree.
Ticket prices begin at $39 for adults and $26 for children ages 2-12. Children under two years old ride complimentary. For more information and reservations please call 800-872-4681 or visit us online at http://www.GSMR.com.
Crown Class ticket prices are $49 for Adults, $36 for children 2-12 and $10 for under two years. First Class seating upgrades are available. Each guest will receive a deluxe serving of warm cocoa in a souvenir Polar Express mug and other treats in addition to the standard offerings. Ticket prices for First Class are $59 for adults and $41 for children. Children under two years old are $10.
Ride the Polar Express Christmas Eve Limited for an evening you will never forget! Each guest will receive a special Christmas souvenir. Adult ticket prices are $50 and children 2-12 are $37. First class seating upgrades are also available. Adult ticket prices are $72, children 2-12 are $50 and $16 for under two years. Guests will receive a special limited edition golden ticket lanyard!
Smoky Mountain Trains Museum admission is included with all train excursion tickets. Without train excursion admission is $9 for Adults and $5 for Children.
Proud member of the American Heritage Railways family. Visit our sister railroads in southwest Colorado at the Durango & Silverton Narrow Gauge Railroad and in east Texas at the Texas State Railroad.
# # #