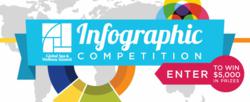 This contest was created by popular demand, and to get more people contributing their vision of how spa and wellness impact the world – but in a fresh, new format
New York, NY (PRWEB) April 16, 2013
The Global Spa & Wellness Summit (GSWS) today launched its first-ever infographic competition, a global challenge to communicate information about spa and wellness through the unique format of the infographic. Registration for the contest opens today, and entries will be accepted through August 31, 2013.
The contest is open to anyone over the age of 18, anywhere in the world. First, second and third place winners will be announced (and showcased) at the annual Summit being held at The Oberoi, Gurgaon in New Delhi, India from October 5-7, 2013. Three winners will share cash prizes totaling $5,000 USD.
The Contest: Infographics blend visuals with data and content to allow information to be presented in an engaging, easy-to-grasp way. Contestants are challenged with using this design medium to present an informed, inspired vision of any aspect of spa or wellness they choose. The contest purposely leaves the interpretation of spa and wellness open-ended to encourage diverse, creative submissions. For example, entries can be "business facing" (i.e., make a case to an implied industry expert or investor audience), or be designed to inspire and inform consumers by presenting facts about the benefits of spa and wellness.
The 2013 GSWS Infographic Competition expands on the organization's yearly Student Challenge, where university student finalists from around the world travel to the Summit to present their concepts for a spa of the future. While the yearly Student Challenge engages four teams of four students each, the Infographic Competition is designed to involve a much larger group of contestants. And given the proliferation of infographic-creating tools, it puts the competition in more people's reach.
"This contest was created by popular demand, and to get more people contributing their vision of how spa and wellness impact the world – but in a fresh, new format," said Dr. Marc Cohen, GSWS Board Member; professor at RMIT University, Australia; and director of the competition. "Infographics can be a powerful educational vehicle because they distill complex ideas and data in a simple, eye-catching format. And we believe the submissions will help consumers, the business world and the media understand the depth, breadth and benefits of our industry more clearly."
Contest Details:
Eligibility: The contest is open to both individuals and teams, and students and professionals over the age of 18, from anywhere in the world. Partnerships between those with industry expertise/insight and those with design fluency are encouraged. There is no entry fee.
Registration Requested: The GSWS requests that anyone who plans to compete register as soon as possible at the Global Spa and Wellness Summit website. Registrants will receive additional and updated information about the contest via email.
Important Dates: Registration opens today, and submissions will be accepted until August 31, 2013 at 5:00 PM Eastern Standard Time. Winners will be announced on October 6, 2013 at the Summit.
Prizes: First prize is $2500, second prize is $1,500, and third prize is $1000.
Judging Criteria: Infographics can explore any aspect of, or trend in, spa and wellness that the submitter chooses. Because successful infographics marry data to both visuals and personal insight, the judges will seek submissions that:

Are informed, fact-driven and contextual - as well as innovative, inspiring and thought-provoking.
Educate about critical information or concepts that are important to the global spa and wellness industries.
Are visually appealing, using data and visual components in a creative, fun and clear way.
Judging Process: A panel of spa, wellness and design experts will judge all eligible entries.
Technical Details: Submissions can contain any form of visual media, including digital art, graphs, charts, histograms, diagrams, photographs, illustrations, drawings or paintings. The infographic should only contain new, original work created specifically for this contest and not be subject to any copyright restrictions. Entries are limited to a single, designed image in JPG format.
To register for the contest, or for more information, visit: http://www.globalspaandwellnesssummit.org/index.php/summit-2013/infographic-competition
After registering, submissions (and questions) should be sent via email to: infographic(at)gsws(dot)org
To learn more about the 2013 GSWS, or to apply to become a delegate, please visit: http://www.globalspaandwellnesssummit.org
About the Summit:
The Global Spa & Wellness Summit (GSWS) is an annual event that attracts executives and leaders from around the world with an interest in the spa and wellness industries. Delegates from diverse sectors, including the hospitality, tourism, finance, medical, real estate, manufacturing, technology, consulting and product industries attend this invitation-only gathering. The Summit has been responsible for some of the most important spa industry research, including the tool SpaEvidence.com, the world's first online portal to the medical evidence for common spa and wellness therapies. The GSWS was honored as "Spa Event of the Year" for the last four years by AsiaSpa magazine's awards program.