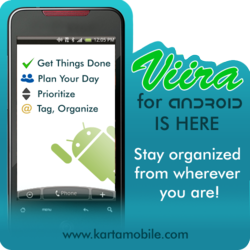 "Great app,love it because of its simplicity! ... Clean and light interface, which implements d.Allen's gtd!" - Viira review on Android Market
Vancouver, BC (PRWEB) September 15, 2011
As the popularity of Android-powered smartphones grows at an ever-increasing rate, so does the need for quality software applications that help people stay organized and get things done in their day-to-day lives. Karta Mobile, a leading provider of mobile productivity solutions has stepped in to fill the void and provide a version of its leading Getting Things Done® (GTD) app Viira™ for Android smartphones. Viira provides support for all key aspects of a GTD Android implementation such as projects, context, day tasks, an in-basket and more.
"Getting Things Done: The Art of Stress-Free Productivity" is a best-selling time management book by David Allen that shows readers how to organize their projects, commitments and communications in an effective, intuitive and stress-free manner. Unlike traditional organizational methods, Getting Things Done calls for the creation of a powerful task classification system that enables the effective filing and retrieval of tasks and to-dos. Despite the wide availability of many productivity apps and to-do list managers, few of them possess the key requirements necessary to build a portable GTD system.
Following in the footsteps of the BlackBerry GTD application Viira, Viira for Android enables powerful yet intuitive organization of a person's to-dos and commitments in a comprehensive system that resides entirely on his or her Android smartphone. Users can simultaneously organize their tasks by project, context and day in order to quickly retrieve the right task exactly when it is needed. Viira for Android has a clean, intuitive user interface and also provides an In-Basket to enable users to quickly collect and record to-dos and ideas. Fast itertive search ensures that no to-do or commitment gets forgotten or left behind.
Viira is a native application on the Android platform and does not require wireless internet access to function properly. Users can stay organized and apply the principles of Getting Things Done from areas with low or no wireless coverage.
Participants in the Viira for Android beta program can download version 0.9 of the software for free from the Android Marketplace as well as from the company's website. Viira for Android is supported on Android OS 2.2 or later.
Contact: contact (at) kartamobile (dot) com
Company website: http://www.kartamobile.com
About Karta Mobile Inc.
Karta Mobile Inc. specializes in the design, creation and implementation of productivity and business-centric mobile applications. Karta Mobile's flagship software app Viira is the leading BlackBerry GTD-based productivity application and has received numerous media reviews and positive testimonials. The Viira Outlook Suite is an innovative wireless solution that helps people implement GTD with Outlook by providing real-time wireless synchronization of their productivity data between MS Outlook and a BlackBerry smartphone.
GTD® and Getting Things Done® are registered trademarks of David Allen Company. Karta Mobile and Viira are not affiliated with or endorsed by the David Allen Company. Viira™ is a trademark of Karta Mobile Inc.
###