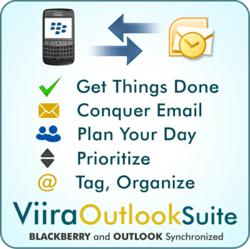 Having my entire personal organization system synchronized between Outlook and my BlackBerry has been a game changer.
Vancouver, BC (PRWEB) June 30, 2011
Karta Mobile has announced the release of version 1.2 of its leading personal productivity solution for BlackBerry® smartphones and Microsoft® Outlook®. The latest version of the Viira Outlook Suite™ brings faster synchronization as well as numerous new features and productivity enhancements to both the Outlook plugin and BlackBerry client part of the suite. The Karta Mobile development team has brought all new features from their leading BlackBerry GTD software app Viira™ 3 to the Viira Outlook Suite including enhanced touch-screen support, reminders, fast iterative search and the option to hide completed tasks, among many others.
The Viira Outlook Suite is the first personal productivity solution to bring together the power of Microsoft Outlook and a BlackBerry smartphone in order to help users get organized and stay on top of their commitments from wherever they are. The suite is comprised of a BlackBerry client and an Outlook plugin who provide support for all key aspects of personal organization and the principles of Getting Things Done® (GTD®). The suite leverages the BlackBerry cloud infrastructure by propagating updates wirelessly over the BlackBerry Enterprise Server; synchronization can be performed via USB sync and with third-party task sync tools.
The Viira Outlook Suite comes with a 14-day free trial and is supported on all modern BlackBerry devices with OS 4.6 or later as well as on Microsoft Outlook 2003, 2007 and 2010.
Microsoft Outlook and BlackBerry smartphones are the productivity platforms of choice for many professionals, executives and knowledge workers around the globe who strive to achieve higher personal productivity and organization and incorporate the principles of Getting Things Done in their day-to-day lives. The Viira Outlook Suite provides a much-needed solution to many who until now have not been able to leverage the full power of a GTD Outlook system because of the lack of wireless synchronization with their BlackBerry smartphone.
"Getting Things Done: The Art of Stress-Free Productivity" is a New York Times bestseller by David Allen that shows readers how to effectively organize information, tasks and communications in an effective and stress-free way. The principles of GTD have been embraced by busy professionals, executives and knowledge workers around the world.
About Karta Mobile Inc.
Karta Mobile Inc. is a Vancouver, BC company that specializes in the design and creation of business-centric mobile applications. Karta Mobile's flagship BlackBerry app Viira is the leading GTD-based productivity application on the BlackBerry platforms and has received numerous media reviews and positive testimonials. Karta Mobile has announced the upcoming GTD Android version of Viira.
Contact: contact (at) kartamobile (dot) com
Company website: http://www.kartamobile.com
Flickr stream: http://www.flickr.com/photos/gtdviira
GTD® and Getting Things Done® are registered trademarks of David Allen Company. Karta Mobile and Viira are not affiliated with or endorsed by the David Allen Company. BlackBerry, RIM, Research In Motion and related trademarks, names and logos are the property of Research In Motion Limited. Viira™ and Viira Outlook Suite™ are trademarks of Karta Mobile Inc.
# # #