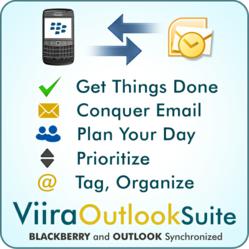 Thx for the amazingly useful product. By far, Viira is the most important app on my blackberry"
- Viira online feedback
(PRWEB) February 29, 2012
Karta Mobile Inc. has announced the immediate availability of version 2.0 of its software solution for Getting Things Done with Microsoft Outlook and BlackBerry. The latest version of the Viira Outlook Suite introduces a rich and integrated organizational workflow that enables people to organize their email communications, contact actions as well as memos and notes into their portable, available-from-anywhere GTD system.
Easy to use and get started with yet powerful and effective, the Viira Outlook Suite provides a solution for busy professionals, entrepreneurs and executives who want to stay organized and get things done yet find it hard to do so from multiple disconnected devices and platforms. The Viira Outlook Suite consists of a full-featured BlackBerry app and a rich GTD Outlook add-in that seamlessly stay synchronized and empower people to be productive and get things done from anywhere.
Among a long list of new productivity features the suite boasts a new stylish touch screen interface that lets owners of touch screen BlackBerry devices such as the Bold 9900 or Torch 9800/9810 or 9860 models to perform frequently used actions with a tap on the touchscreen. The addition of contact integration enables people to incorporate techniques from CRM into their GTD workflows and achieve higher productivity and results in managing, communicating and following up with their contacts.
The proprietary wireless synchronization algorithm used by the suite leverages the BlackBerry Enterprise Server (BES) and Microsoft Exchange out-of-the-box without requiring any additional configuration or server-side components. This makes the suite ideal for the data security requirements of modern enterprise IT networks as no data leaves the bounds of the corporate network during synchronization. The Viira Outlook Suite supports USB synchronization as well.
"Getting Things Done: The Art of Stress-Free Productivity" is a best-selling time management book by David Allen that shows readers how to effectively organize their day-to-day tasks and commitments in a stress-free and intuitive way. The principles of GTD continue to receive wide-spread media attention to-date and have been embraced by millions of professionals, entrepreneurs and executives worldwide.
About Karta Mobile Inc.
Karta Mobile Inc. is a Vancouver, BC company that specializes in the creation of business-centric mobile applications. Karta Mobile's flagship BlackBerry software app Viira is the leading GTD-based productivity application and has received numerous media reviews and positive testimonials. Karta Mobile recently launched the GTD Android version of Viira.
Contact: contact (at) kartamobile (dot) com
Company website: http://www.kartamobile.com
Flickr stream: http://www.flickr.com/photos/gtdviira
GTD® and Getting Things Done® are registered trademarks of David Allen Company. Karta Mobile and Viira are not affiliated with or endorsed by the David Allen Company. BlackBerry, RIM, Research In Motion and related trademarks, names and logos are the property of Research In Motion Limited. Viira™ and the Viira Outlook Suite™ are trademarks of Karta Mobile Inc.
###