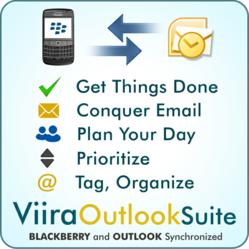 "A "Gotta'have" GTD application. I tried about 6 others from Super-Complex to Too-Simple, and not one could hold a candle to Viira!"
-Viira testimonial
Vancouver, BC (PRWEB) September 17, 2012
Karta Mobile has announced the release of version 2.1 of the Viira Outlook Suite™, the company's popular software solution for Getting Things Done® (GTD®) with BlackBerry® and Microsoft® Outlook®. The new version brings a refined Outlook add-in, an elegant touchscreen dashboard and support for advanced personal organizational techniques that help people get things done from anywhere.
The Viira Outlook Suite is an industry-leading solution and the first one to synchronize a feature rich BlackBerry app with a matching GTD Outlook add-in in order to bring a unified, accessible-from-anywhere personal organizational system for Getting Things Done. Designed with ease of use and simplicity in mind yet feature-rich and powerful, the latest version brings support for advanced aspects of the GTD workflow such as Next Actions, the ability to tag and classify by multiple contexts as well as an elegant touchscreen dashboard and a refined and enhanced Outlook add-in.
"Getting Things Done: The Art of Stress-Free Productivity" is a New York Times best-selling time management book by David Allen that has been embraced by many busy professionals, executives and entrepreneurs around the world. The methods in the book emphasize the importance of organizing all of one's to-dos, commitments and ideas in a well-designed system for easy retrieval and a stress-free, focused execution.
Identifying next actions and organizing them for easy and intuitive retrieval later is a core component of Getting Things Done. The new Next Actions area available in both the Outlook add-in and BlackBerry app components of the Viira Outlook Suite provide high, system-wide visibility of the most important actions that require completion at the first available opportunity.
The unique design of the Viira Outlook Suite ensures that the exacting security requirements of enterprise system administrators are fully met. By leveraging the BlackBerry Enterprise Server (BES) and Microsoft Exchange the data transmitted during wireless synchronization never leaves the boundaries of the enterprise network within which the suite is deployed thus ensuring maximum data security and compliance. Sync via USB is also supported.
The Viira Outlook Suite comes with a 14-day free trial and is supported on all modern BlackBerry devices with OS 5.0 or better as well as on Microsoft Outlook 2003 through 2010.
About Karta Mobile Inc.
Karta Mobile Inc. is a Vancouver, BC company that specializes in the creation of business-centric mobile applications. Karta Mobile's flagship BlackBerry software app Viira™ is the #1 ranked app for Getting Things Done with BlackBerry smartphones. Karta Mobile recently released a GTD Android version of Viira and announced plans for a cloud sync platform.
Contact: contact (at) kartamobile (dot) com
Company website: http://www.kartamobile.com
Flickr stream: http://www.flickr.com/photos/gtdviira
GTD® and Getting Things Done® are registered trademarks of David Allen Company. Karta Mobile and Viira are not affiliated with or endorsed by the David Allen Company. BlackBerry, RIM, Research In Motion and related trademarks, names and logos are the property of Research In Motion Limited. Viira™ and the Viira Outlook Suite™ are trademarks of Karta Mobile Inc.