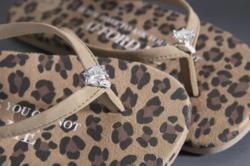 GTDD...is the perfect match for what we were missing in our collection." - Brian Curin, president and co-founder Flip Flop Shops
Vancouver, BC (PRWEB) June 06, 2013
Girl Two Doors Down (http://www.gtdd.com), makers of bling bling flip flops loved by Hollywood's hottest celebrities, announces it is now available for purchase online via the Flip Flop Shops website. The Flip Flop Shops are North America's first and largest retail chain exclusive to the hottest brands and latest styles of flip flops, with over 250 stores.
" We are so excited to have GTDD on our site. It is the perfect match for what we were missing in our collection - great quality, unique, classic flip flops," says Brian Curin, president and co-founder of Flip Flop Shops.
Girl Two Doors Down flip flops are cheeky, sexy and the favorite of many celebrities who have been photographed wearing the company's flat, platform and bridal flip flops.
Girl Two Doors have been worn by stylish celebrities running errands, busy moms adding a dash of fun to their wardrobes, and the everyday woman wanting a little spring in her step. The sandals with crystal jewelry are not only classic and beautiful, but also very comfortable and have been sold through more than 700 retail stores, five-star hotels and specialty spas around North America.
"Having just celebrated our eighth year in business, we are really excited to partner with the Flip Flop Shops to further our growth," says Girl Two Doors Down founder Robbie Bernstein.
The company's most popular dressy flip flops and bridal flip flops, as well as exclusive, limited editions are also available at the official webstore of Girl Two Doors Down flip flops.