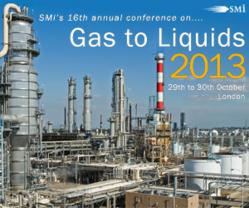 London (PRWEB UK) 30 June 2013
This year, British Airways announced an agreement to purchase $500 million of jet fuel converted from landfill gas. It signed with a consortium of companies to create a conversion facility in the UK, utilising Fischer Tropsch (FT) technology to convert gas to liquid fuels. On a smaller scale, a number of companies are utilising the FT process to take advantage of more site-specific opportunities, with the aim of creating small-scale and modular GTL systems both on- and offshore to take advantage of gas resources that are by themselves too small for larger multi-billion GTL plants. Furthermore, US-based Velocys has been established to address the shale gas on the continent with the delta between natural gas and oil, and proximity to consumer markets providing further opportunities in the GTL market.
Against this backdrop, SMi's 16th Gas to Liquids conference will address these latest developments and much more, playing host to the world's foremost authorities on GTL including Sasol North America, Chevron Nigeria, Shell, BP and Exxon Mobil. The three day meeting will provide the ideal platform for discussion and debate over current and emerging GTL projects, developments within the industry, technology sessions and interactive panel debates.
Expert Speaker Panel includes:

Mark Schnell, General Manager, Marketing, Strategy and New Business Development, Sasol North America
Mick Kraly, Project Director, EGTL, Chevron Nigeria
James Vaughan, General Director, OLTIN YO'L GTL
Onnon van Kessel, Senior Business Development Manager Gas to Liquids & Gas to Chemicals, Shell International Exploration and Production
Mitch Hindman, Licensing Manager, Exxon Mobil
Robin Holford, Conversion Technology, BP
Jeff McDaniel, Commercial Director, Velocys
Shravan Joshi, Business Development Director, CompactGTL
Sébastien Boucher, XtL Technology Manager, Axens
To view the full speaker line-up and completed conference programme, visit http://www.smi-online.co.uk/2013gtl24.asp
New for 2013:
Drinks Reception
SMi Group invite all workshop and conference delegates, speakers and sponsors to join them for a networking welcome drinks reception at 5.30 p.m. on 29th October 2013.
Evening Reception and Dinner
SMi Group invites you to join them for a post conference dinner reception following the end of the first day. Dinner will be held at Bombay Brasserie where you will have the extended opportunity to network with industry professionals. Leave GTL 2013 having forged new working relationships while strengthening current ones.