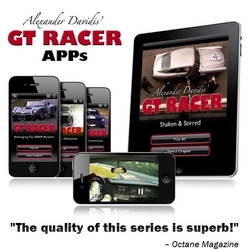 New York, NY (PRWEB) April 6, 2011
John Galt Films Inc, the leading international producer of high octane vintage racing films, announces the release of 10 GT RACER applications for the iPad, iPhone and iPod Touch.
GT RACER, the innovative cinéma verité style documentary series, that looks and feels like feature film, is taking you literally inside the cars and onto the tracks. As a member of various spectacularly race teams, you are getting a peek at the most exclusive series of international historic racing, where the most beautiful racers ever built battle it out on their most glamorous original tracks: 1950s and 60s Aston Martins, Ferraris, Maseratis, Porsches, Mustangs, Cobras and others at Spa (Belgium), the Nürburgring (Germany), Limerock and Laguna Seca (USA), the Carrera Panamerican (Mexico) and many more.
Historic Racing is a worldwide fast growing phenomenon. GT RACER shares the unique experience of the classic racer that time-travels to the Golden Era of car racing. Where it's not just about the speed and the noise but the incredible atmosphere.
"The Quality of this series is superb." – Octane Magazine
"Imagine the feel and style of John Frankenheimer's 1966 Grand Prix classic motoring movie with wa-a-ay more beautiful cars and you're halfway there." – Spirit Level Films
Based on the highly successful GT RACER HD-TV Series that aired worldwide (on HD Theater, Discovery HD, UKTV, Aljazeera, MTV3 and many more) car racing enthusiasts can now experience these tracks, events and cars as if being there.
Says Director Alexander Davidis: "Netframes has done an incredible job to transform GT RACER into apps. The look and feel of them on phone or pad is just absolutely top notch. I could not be happier with it."
Developed by Smartphone specialists, Netframes, the GT RACER titles include:
Shaken & Stirred - Spa (Belgium)
On Porto's Street Circuit (Portugal)]
Big Speeds at Silverstone (England)
The Nürburgring Factor (Germany)
Legends of Limerock (Connecticut USA)]
Ferraris at Laguna Seca (California USA)]
The Spa Six Hours (Belgium)
Nordschleife: The 500KM Marathon (Germany)
Fast Curves at Magny Cours (France)
La Carrera Panamericana (Mexico)
John Galt Films, Inc. is the New York City based boutique production company behind the program. Owner Alexander Davidis writes, directs and produces the GT RACER series.
Promo-codes are available for editorial reviews. Owner Alexander Davidis writes, directs and produces the GT RACER series. He can be reached at info (at) johngaltfilms (dot) com or by phone at: +1 (212) 744.7441.
# # #