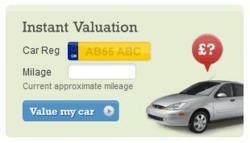 Our website is all about making the whole customer experience as easy as possible, allowing people freedom when choosing a new car & finance package
(PRWEB UK) 28 March 2011
Powered by Glass's, the quick and simple to use feature allows car owners to get three part exchange (p/x) figures for their vehicle, determined by the age and mileage. These figures, quoted on the condition of the vehicle – excellent, fair and poor – allow people looking to p/x their car to have a good idea of how much they can expect to be offered by carfinance247.co.uk
This enables consumers to:

feel confident that they are getting a good deal as they receive an independent valuation; and
enables them to calculate their car finances with more accuracy.
Louis Rix, Director of carfinance247.co.uk, says: "Our website is all about making the whole customer experience as easy as possible, allowing people freedom when choosing a new car & finance package, away from the often pushy sales processes seen in traditional car dealerships. This free tool complements what we are trying to achieve, allowing people to feel more confident when going through the car buying and selling process."
He adds that the part exchange valuation tool is unlike many others as not only is it free to use, but there are no lengthy forms to fill out. "You simply enter your car registration number and the mileage, and you get three valuations back".
This new tool complements the existing onsite car finance calculator, which displays three projected monthly repayments over a selected period of time based on whether your credit score is excellent, fair or poor.
Other tools on the site include a free credit check, which is aimed at helping people understand how their credit rating will be assessed. Should they then wish to look for a car, they will be able to browse vehicles and car finance deals that fit their profile. This means that even people with a less than perfect history may access bad credit car finance.
Finally, a personal service is offered by their free onsite Ask the Expert facility where personal answers are given by the company's Underwriting Manager, including questions on car finance and any conerns about getting accepted for bad credit car finance.
Visit http://www.carfinance247.co.uk for more information.
Contact:
Louis Rix, Director of carfinance247.co.uk, on: 0845 129 5526
About Car Finance 247:
Founded in 2000, carfinance247.co.uk is a privately owned business with offices based in central Manchester. We provide vehicle financing solutions for all financial circumstances such as hire purchase, personal contract purchase, contract hire and other leasing options. No deposit is required and we can supply and deliver any make and model of your choice.
###