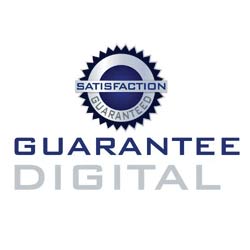 Pete was a natural fit for our team. His deep knowledge of Digital Marketing, the Media Industry and passion for helping local merchants made him the obvious choice for our West Coast office. Plus, he's a heck of a nice guy
California (PRWEB) July 10, 2012
Guarantee Digital is pleased to announce that Peter Herschberger has joined their Digital Marketing and Solutions team, opening an office in the San Francisco Bay Area. Herschberger will focus on helping both Merchants and Local Media Companies grow their business using Guarantee Digital's best practices for SEO, Display, Social, Mobile and Video marketing.
Guarantee Digital offers multiple strategies for local Media companies looking to jumpstart their Digital Revenue. Options include launching a full blown branded digital services agency to selecting a few best-selling Digital Products to kick off with a sales blitz and merchant seminar.
Herschberger said he joined Guarantee Digital because of their proven techniques for helping Local Media Companies tap into the fast growing Digital Services segment. "I realized that quietly in every US Market and right under the noses of established Local Media Companies, local Merchants are beginning to make serious investment in Digital Services. Guarantee Digital helps Local Media companies provide the types of services today's businesses need to succeed."
Prior to joining Guarantee Digital, Herschberger has held various roles in Bay Area Media, including VP Marketing for the San Jose Mercury News, VP Sales and Marketing for the San Francisco Examiner, and VP Advertising and Marketing for the Contra Costa Newspaper Group.
Daryl Hively, CEO of Guarantee Digital added, "Pete was a natural fit for our team. His deep knowledge of Digital Marketing, the Media Industry and passion for helping local merchants made him the obvious choice for our West Coast office. Plus, he's a heck of a nice guy"
Hively concluded by saying, "We believe Local Media Companies are perfectly poised to capitalize on this growing segment. As we tell our partners...someone is going to sell local Merchants these much needed services...it might as well be you!"
To learn how Peter and Guarantee Digital can help your business grow, contact us at 925-915-0951 or peter(at)guarantedigital(dot)com.
About Guarantee Digital: Guarantee Digital is a SE Wisconsin based online advertising agency that consults with local Merchants and Media Partners to help them grow their business. Find out more by visiting http://www.guaranteedigital.com.