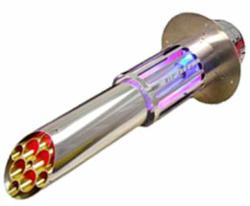 I have researched the majority of the air purification systems on the market and there's simply nothing else out there as advanced and affordable as the Guardian Air REME+ air purification system, every home and office in the world should have one
Houston, TX (PRWEB) June 14, 2011
Hospitals, schools and other popular indoor spaces are normally the kinds of places where allergens, germs, and airborne toxins flourish. However, in recent years, these same establishments have acted as silent proving grounds for an advanced new form of air purification by Guardian Air .
Now, this same whole house air purification system is available at Global Healing Center for consumers to install in their home or business. "It's going to change the way people live in their homes," says Dr. Edward F. Group, a well known organic supplement developer and expert on natural lifestyle and green living technology.
The Guardian Air REME+ whole house air purification system silently generates Ionized Hydro-Peroxides, similar to what you would naturally find outdoors, which circulate throughout your home, instantly neutralizing impurities in the air and surfaces on contact.
With no moving parts, the Guardian Air REME+ air purifier is small enough to hold in your hand and installs into any central HVAC duct in just a few minutes. The invisible particles it creates actively seek out contaminants, making a single unit powerful enough to easily purify an entire home or small office.
Independent testing has shown that the Guardian Air REME+ whole house purification system reduces airborne bacteria and mold by 97%, as well as reduces E. coli, Listeria, Streptococcus, Norwalk Virus and MRSA by 99%. Its ability to control airborne mold has led the US Military to adopt this advanced air purifier for use in field hospitals. Additionally, inner city schools have reported a 20% decrease in student absences following the installation of the REME+ air purifier.
"I have researched the majority of the air purification systems on the market and there's simply nothing else out there as advanced and affordable as the Guardian Air REME+ air purification system, every home and office in the world should have one," says Dr. Group.
For more information on the Guardian Air REME+ whole house air purification unit, please visit - http://www.globalhealingcenter.com/guardian-air-purification-reme.php
Dr. Edward F. Group III has studied environmentally friendly methods for more than two decades. He is the founder of Global Healing Center, Inc. and creator of many natural health supplements, including Oxy-Powder®, Detoxadine and Intracal. Under his leadership, Global Healing Center, Inc. has earned recognition as one of the most respected green living, natural and organic health authorities in the world.
###