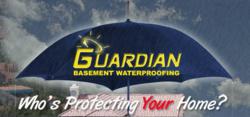 Even if you didn't have mold problem during winter, you can get one in summer, because mold spores are always present in the air.
Baltimore, MD (PRWEB) July 11, 2012
With summer in full swing, Guardian Basement Waterproofing recommends homeowners pay special attention to mold in their homes, as the hot and humid weather creates ideal growth conditions. Left unattended, mold spores and toxins can spread around the house causing allergic reactions, asthma attacks, and other adverse health effects in people.
A mold problem in the City Hall of Union Gap, Wa., that got out of control last summer has recently forced employees to evacuate the building and relocate. It is not the first or the last case of mold taking over people's living spaces, which is why it is important to always keep the mold in check.
"Because we spend so much time outdoors during the summer, it is easy to overlook mold problems, especially deep down in your rarely used unfinished basement," pointed out Joel Anderson, the owner of Guardian Basement Waterproofing, Maryland mold remediation and waterproofing company.
According to the U.S. Environmental Protection Agency (EPA), mold thrives in damp places that also provide access to oxygen and organic food sources, such as wood, drywall, carpet, paper, etc. Every house already offers food and oxygen necessary for the mold growth, and elevated summer humidity adds moisture, the last component, to the mix.
"When hot humid air enters the basement and touches cool surfaces, it condenses and releases water," explained Anderson. "And even if you didn't have mold problem during winter, you can get one in summer, because mold spores are always present in the air – just waiting for the right conditions to grow and multiply."
Baltimore mold removal expert also added that unsealed concrete walls tend to absorb water from the surrounding ground due to concrete's porous nature. They may transfer moisture to anything they come in contact with, such as drywall, insulation, cardboard boxes, furniture, etc. "Add mold spores, and you've got yourself a problem," concluded Anderson.
The longer mold growth is left untreated, the more elaborate the process is to get rid of it. As mold makes its way deep into drywall, carpet, and other porous materials, they often get infected beyond repair and have to be discarded. Simply wiping or washing the mold off doesn't do the trick, because it penetrates surfaces deeper than one may suspect.
Mold control goes hand in hand with basement waterproofing, because without eliminating the leak or condensation issue, mold will keep coming back.
"For anyone interested in Maryland basement waterproofing, summer is a great time to get the job done fast," said Anderson. He went on to explain that fall and spring are usually the busiest seasons on the East coast, because many basement leaks are discovered due to heavy rains and thawing snow.
About Guardian Basement Waterproofing
Established in 1984, Guardian Basement Waterproofing is waterproofing company based in Baltimore, Md. Our services range from foundation crack repair and sump pump hook-up to mold remediation and installation of drain tile systems. The company serves areas in Delaware, Maryland, Pennsylvania, Virginia, and Washington, DC. For more information, please visit http://www.guardiandry.com