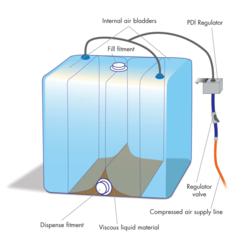 Alpharetta, Georgia (PRWEB) September 06, 2011
Grayling Industries, a manufacturer and distributor of industrial packaging products, is introducing a new form fitted liner for intermediate bulk containers that helps to completely and quickly dispense viscous liquids.
The Guardian Pressure-Dispense liner features two internal air bladders. By pressurizing the bladders, liquids are gathered together in the center of the container and made available for a pump to evacuate the liner without losing prime. As product is pumped out of the container, the air bladders expand to fill the empty space and eventually concentrate the viscous material into the bottom center of the tote directly adjacent to the dispense port.
The Guardian Pressure-Dispense liner is designed to work with the 275 gallon PaperIBC and the 315 gallon Buckhorn collapsible tote. The liner can also be manufactured to accommodate many other commercially available IBC containers.
Grayling Industries is a North American manufacturer of specialized flexible film products for industrial applications. Markets served are industrial packaging and environmental safety. Primary products are intermediate bulk containers and liners and products for contamination control on asbestos abatement projects. Brands include; Guardian™ IBC container liners for liquid and dry applications, PaperIBC™ containers and Avail™ glovebags, Control™ chemicals, D-Con™ disposable showers and Durapax™ disposal Bags for asbestos abatement.
###