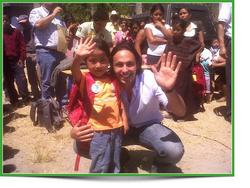 Cuilco, Guatemala (Vocus) March 6, 2010
We often hear the horror stories of companies coming into struggling communities and making massive profits without ever paying back the local community. It is a pleasant surprise to see that World Energy Research (WER) is doing the complete opposite of that.
From the moment that WER decided to take on the Guatemala Energy Projects, it was their intention to reward the community for this opportunity. The contributions that they have made and will continue to make to the cities of Cuilco, and many surrounding neighborhoods, go far beyond making sure that their own project was successful. Their continued support is enabling this community to experience such benefits as clean water and paved roads for the very first time.
The schools of Cuilco were of an unfinished endeavor. The buildings were worn and depleted, and the children were without the proper school supplies to create a proper leaning atmosphere. This need was immediately addressed by WER. Schools are being either significantly rebuilt and/or remodeled, while all of the children are receiving things such as backpacks full of necessary school supplies from WER.
Cuilco, and surrounding cities, are also going to benefit from the turbine plant itself. They will finally have a steady power source that they can depend on. In addition to that, the city and surrounding area will have fresh water on a steady basis. Things that many people in the world take for granted every day will now be experienced for the first time by these residents.
WER has always made the commitment that they need to become part of the community, not just operate a business in it. They leave their footprint wherever they go and it is always in a positive fashion.
The mayor of Cuilco, a true philanthropist, completed his extensive speech thanking WER for the changes they are making. Onsite WER team members were in emotional tears of joy. Take a look at images from this amazing day.
About World Energy Research: WER is an energy research company that seeks to pair up investors with innovative energy projects that will benefit both the community and the environment. Specializing in renewable energy projects, they continue to lead the way in the quest to meet the world's energy needs in a cleaner and more efficient manner.
About World Energy Media: World Energy Media is a subsidiary of World Energy Research (a World Energy Holdings Company) and has been created to fill a much needed void in the energy news sector. This media outlet is devoted to nothing but energy news and brings all of the latest news about energy under one umbrella. WEM will cover everything from the latest legislation to energy investments to reviews of new products.
Contact:
World Headquarters
Level 20 ASB Bank Centre
135 Albert Street
Auckland, 1010, New Zealand
Phone: 64+93597492
Fax: 64-93597495
Central/South America Headquarters
5th avenue 5-55
Zone 14 Floor #8
Euro Plaza World Business Center
Guatemala City, Guatemala
Phone: 502-2378-6400
Fax: 502-2378-6421
###