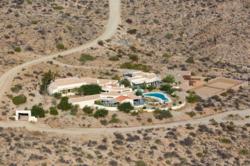 ...I no longer have time to enjoy this little corner of paradise...
Ms Patricia Gucci
San Jacinto Mountains, CA (PRWEB) February 12, 2013
The unique Gucci estate boasts 23 acres, set high in the San Jacinto Mountains, and is priced at $9,000,000.
Ms Patricia Gucci has paid meticulous attention to this compound since 1992 and has brought her international experience of world-class design to this Moroccan-Santa Fe styled retreat.
"I am putting the property on the market primarily due to distance - my life and family are in Europe now and I no longer have time to enjoy this little corner of paradise. I have never been so happy and peaceful as when I am in Casa Azzurra and hope that its new owner will experience the same peaceful joy it has brought me for so many years."
With a tennis court villa, spa and pool, a complete media screening theatre and a library, walk in closets as well as a dressing area, every aspect of this design has created the perfect environment for modern wellness married to classic relaxation.
The property boasts panoramic mountain and valley views around the 11,000-square foot main house, adjacent to a Guest Villa, with its own private driveway.
The property was developed by Hollywood executives in the mid 60s, and designed by one of California's leading landscapers, Tommy Thompson, and much thought has been made into the protection of the beautiful landscape. By avoiding all ground utility wires, and close proximity to the Big Horn National Preserve, the estate has views of the Coachella Valley, Joshua Tree National Park and three of Southern California's highest peaks.
The Gucci estate is only 15 minutes to El Paseo/Palm Desert, which provides world-class, shopping, dining, and entertainment venues.
Jane Dorian of Partners Trust, claims that in her years of real estate experience, she has never come across a property so restorative and sublime.
Ms. Jane Dorian, and Mr. Richard Barthomew of the Partners Trust Real Estate, have the listing.