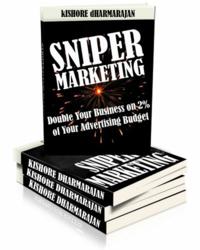 The Quickest Way to Double Your Business is to Stop Looking for Prospects and Start Looking for PRP.
(Vocus/PRWEB) April 07, 2011
While advertisers and marketers try desperately to attract the attention of consumers, a new marketing book is advising businesses to stop looking for Prospects and start concentrating on PRP or Purchase-Ready-Prospects.
As Kishore shared, "After working in the advertising industry for 14 years, I got sick of seeing budgets being wasted on traditional advertising and when Guerilla Marketing came along, there was great hope for marketing."
"Guerrilla Marketing was a breath of fresh air that promised to cut through the clutter and deliver the message to the consumer in an innovative way, " Kishore explained, "However, when Guerrilla Marketing became mainstream, it lost its surprise-element."
"Sniper Marketing is set to change all that," says Kishore, "To start with, Sniper Marketing shows how to use the gigantic intelligence of the internet to read the minds of prospects and determine whether they are prospects or Purchase-Ready-Prospects. Our tests have shown repeatedly that it is fatal for businesses; especially small businesses to go after general prospects. They would be far more successful targeting PRP."
"The concept of the Purchase-Ready-Prospects is so simple that clients often laugh when we show them how quickly PRP can be identified online," Kishore continued, "but when we set up a sales-funnel for them and start generating sales in a few hours time - all the smiles vanish and it is replaced with absolute astonishment."
Sniper Marketing is more than just marketing advice—it's a marketing manager and small business owner's manual for doubling business on a miniscule budget. The author guides the reader through dozens of innovative strategies such as:

Why traditional marketing doesn't work anymore - not even Guerilla Marketing.
How to change your marketing mindset and gear up for the new reality.
Why to stop looking for Prospects and aim for (PRP) Purchase-Ready-Prospects.
How to identify the buying language used by the PRP and formulate your marketing strategy around these insights.
How to use the power of the net to zero in on your PRP.
How to Double Your Business on 2% of Your Advertising Budget.
And finally, discover how to marry the power of the digital media and offline media to explode your small business profits.
Sniper Marketing is hitting the shelves of bookstores in May 2011, but the condensed version of the book is available for free download as an eBook at http://www.SniperMarketing.org
For media inquiries, please visit http://www.SniperMarketing.org/mediaroom for immediate download of the Sniper Marketing media kit.
About:
Kishore Dharmarajan is the author of Sniper Marketing and a trusted authority on Small Business Marketing and Search Engine Optimization. Besides Sniper Marketing, Kishore Dharmarajan has published two books including Eightstorm: 8 Step Brainstorming for Innovative Managers and has spoken in front of thousands on such topics as Search Engine Optimization and Small Business Marketing.
###