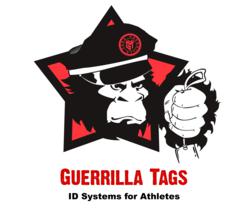 An important level of safety for extreme sports athletes
Denver, CO (PRWEB) August 21, 2012
Denver-based Guerrilla Tags ID Systems has launched onto the endurance and extreme sports scene with two products that aim to save lives and promote a new level of safety for athletes. Guerrilla Tags makes personalized ID systems that provide an athlete's name, emergency contact information, medical allergies and any previously existing medical conditions on a fashionable, and most importantly, a wearable platform.
"Each year, over 450,000 individuals are taken to the hospital without the ability to speak and without any form of identification," says Kyle Ewing, President and Founder of Guerrilla Tags ID Systems. "Today's culture is filled with adventure and extreme sports. With continuous growth of dangerous sports, there has been an alarming rise in the number and severity of related accidents. Athletes are often knocked unconscious or are unable to speak due to their injuries. It is our goal to make sure these injured athletes get the best care possible from emergency responders by providing the critical information needed in an emergency."
Products offered are a wrist mounted ID system and a custom set of copper dog tags that can be customized to fit the needs of any athlete. "If you're going to participate in a dangerous sport on a regular basis, you might as well protect yourself - and look good doing it" says Ewing in response to questions about his edgy, Che Guevara inspired logo. "You have to be a brand that represents the people you serve" he continues, "and if you're in the business of sports safety, you had better not be making the mushroom-style bike helmets from the 80's."
The good news is that today's athletes are more safety conscious than they have ever been. Wearing a Guerrilla Tag ensures that in the event of an accident, anyone around you can immediately tell who you are, who to call and how to treat you. Critical moments are saved which can mean all the difference in an emergency situation.
"The dog tag is my personal favorite because I can wear it under my clothes when I'm climbing high in the mountains, and on the outside of my shirt if I want to show some style afterwards" said Mick Herlocker, a Himalayan Mountaineer.
Other manufacturers have attempted to serve the same market as Guerrilla Tags in the past, however they failed to factor in the growing fashion sense of today's outdoor enthusiasts. Guerrilla Tags has already tapped into that growing market and has plans to organically grow across the industry. Guerrilla Tags are sold at active sports events and online.
For more information visit http://www.g-tags.com.