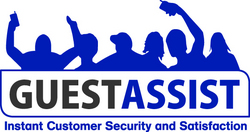 On football Saturdays, Jordan-Hare Stadium becomes Alabama's fifth-largest city, with more than 87,000 fans in attendance
Houston, TX (PRWEB) April 2, 2009
Auburn University Athletics has selected GuestAssist - the industry-leading spectator communication system - for use at Jordan-Hare Stadium beginning this fall.
GuestAssist - a service of Houston-based qtags - provide instant two-way, text messaging-based communication between ticket holders and event staff, allowing for improved management of safety, security and guest services.
Auburn is the first NCAA school to implement GuestAssist, which is currently used by a number of major sports franchises and facilities throughout North America.
"On football Saturdays, Jordan-Hare Stadium becomes Alabama's fifth-largest city, with more than 87,000 fans in attendance," said Auburn Associate Athletic Director Jeff Steele. "Maintaining safety and security and providing responsive customer service to Tiger fans is a priority for the university, and GuestAssist will improve our ability to do that efficiently and effectively.
"We selected GuestAssist because of its proven track record in the National Football League and Major League Baseball, and we're proud to be the first college in the U.S. to offer the service."
GuestAssist provides a simple text message code that will permit Auburn fans to send questions, concerns or requests via their mobile phones to the command and control center at Jordan-Hare Stadium. The number will be communicated to fans via signage, public address announcements and other means.
A single staff member can handle and respond to incoming requests through GuestAssist's customized software interface. The operator can send reply messages directly to the fan's phone to answer questions or obtain more information, and, if necessary, can quickly dispatch safety/security, medical or guest services staff to the appropriate location.
"GuestAssist gives large venues such as stadiums, arenas and theme parks an additional layer of security to serve their operational needs and the ticket holders' well being," said Jeremy Konko, founder of GuestAssist. "Text messaging is the ideal communications vehicle in loud stadiums like Jordan-Hare, and it allows for secure, anonymous communication and real-time response."
GuestAssist will also provide Auburn with post-event reporting and analysis of guests' concerns to help the team's front office improve staffing, fine-tune security procedures and better understand fans' common questions and further concerns.
Houston-based GuestAssist is a member of the Stadium Managers Association and the International Association of Assembly Managers.
About GuestAssist
GuestAssist is an enterprise feedback management platform that gives your customers easy access to you, and gives you a vehicle to engage them. It is text and web-based and allows stadiums, conferences, event managers and hoteliers to talk to their guests via text messages using their own mobile phones. GuestAssist is currently licensed for use at venues across North America, such as:

Yankee Stadium (New York Yankees)
Georgia Dome (Atlanta Falcons)
Lincoln Financial Field (Philadelphia Eagles)
Cleveland Browns Stadium (Cleveland Browns)
Heinz Field (Pittsburgh Steelers and University of Pittsburgh)
M & T Bank Stadium (Baltimore Ravens)
Giants Stadium (New York Giants and New York Jets)
FedEx Field (Washington Redskins)
Ford Field (Detroit Lions)
MacAfee Coliseum (Oakland Raiders)
Texas Stadium (Dallas Cowboys)
Invesco Field (Denver Broncos)
Ralph Wilson Stadium (Buffalo Bills)
Gillette Stadium (New England Patriots)
Lucas Oil Stadium (Indianapolis Colts)
RFK Field (DC United)
BMO Field (Toronto FC)
About qtags llc
qtags llc designs and provides mobility solutions that ENGAGE customers, call them to ACTION and help them REMEMBER the message. qtags offers program solutions to stadiums, arenas, conference centers, government agencies and corporations throughout the United States, Canada and the Caribbean. Learn more at http://www.GuestAssist.net.
###