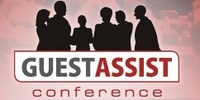 GuestAssist-Conference provides benefits for everyone involved in conferences, trade shows and conventions
Houston, Texas (PRWEB) July 24, 2009
GuestAssist -- the industry-leading, text-based audience communication system -- will launch its large-venue specific software at the International Association of Assembly Managers Conference and Trade Show IAMM Conference in Boston, July 24-28, 2009.
GuestAssist was developed by Houston-based qtags and is currently used by every major sports league in North America, including the NFL, NBA, MLB, NHL, MLS, CFL and NCAA. GuestAssist-Conference is specially designed to be used for communicating with on-the-go audiences at trade-shows, conventions and other large events, as well as at hospitality and entertainment venues such as hotels, theme parks, fairs and more.
GuestAssist-Conference offers a wide range of robust capabilities that empower event staff to better serve attendees, including:

Conversation - GuestAssist-Conference supports live, interactive help allowing guests to communicate with event staff via text-messaging. One staff member can respond to literally hundreds of event attendees via GuestAssist-Conference's customizable prepared reply messages, and all staff can be linked to the conversation via text or e-mail. GuestAssist-Conference allows archived conversations for future review or reporting.
Calendar - GuestAssist's Mobile Conference Agenda can be updated and communicated to all attendees on the fly, saving time and paper and facilitating last-minute changes. And guests can search and view the agenda regardless of their location. Mobile Conference Agenda also supports both primary and secondary sponsorship opportunities, giving event companies additional revenue opportunities.
Communities - GuestAssist's Instant Conference Notifications feature makes it possible to target specific groups of attendees (including event staff) with real-time text messages to inform, entertain, respond or inquire.
Content - GuestAssist allows attendees to request vendor, sponsor or conference material for download to their mobile phone e-mail account. This eco-friendly, on-demand, highly targeted service means collateral is requested only by qualified leads with a genuine interest.
Campaigns - Event planners and sponsors can engage and excite attendees through promotions and campaigns delivered at the right time and rewarded on site. Vendors, sponsors, exhibitors and third parties can gain access to all or groups of attendees. GuestAssist's Campaign Management tool can target the right audience with multiple offers delivered when the brand is fresh in the mind of the attendee. Multiple formats, links to sites, coupons, PLUs and other offers can all be delivered via text-messaging.
"GuestAssist-Conference provides benefits for everyone involved in conferences, trade shows and conventions," said Jeremy Konko, GuestAssist founder. "Attendees have quick and easy access to information and can even communicate with event staff should they need assistance; conference planners can reach attendees or groups of attendees with targeted, real-time messages and can develop additional sponsorship revenue from GuestAssist's many features; and exhibitors and sponsors can distribute information and interact with qualified prospects in a meaningful way, rather than just handing out brochures to everyone who walks by. Plus, GuestAssist-Conference is affordable and easy to set up and operate, and can be quickly customized to fit any type of event."
GuestAssist-Conference has been tested at a number of national events and was developed based on input from a wide range of experts in the hospitality and meeting planning industries.
"GuestAssist-Conference is a vital tool for anyone for anyone planning and implementing event or hosting large numbers of guests," says Ruby Newell Legner, a nationally recognized consultant for the hospitality industry. "GuestAssist makes it easy for conference or hospitality staff to provide exceptional service to attendees and exhibitors while creating a truly interactive environment with large, mobile audiences. And it provides new opportunities for sponsorship programs that reach attendees where they prefer information, on their mobile phones. It's a win-win-win."
GuestAssist-Conference is also affordable and easy to use.
"GuestAssist is like having a 'remote control' for your meeting," said Jeremy Lisch, operations manager for Major League Soccer. "We were set up in minutes and it was so easy to use. Plus, integrated sponsorships means it can pay for itself!"
To learn more about GuestAssist or to schedule an interactive demonstration, visit http://www.guestassist.net/guestassistconference.
About GuestAssist:
GuestAssist is an enterprise feedback management platform that gives your customers easy access to you, and gives you a vehicle to engage them. GuestAssist is a service of Houston-based qtags and is a member of the Stadium Managers Association and the International Association of Assembly Managers. GuestAssist is currently licensed for use at well-known venues across North America. Learn more at http://www.GuestAssist.net.
About qtags llc:
qtags llc designs and provides mobility solutions that engage customers, calls them to action and helps them remember the message. Through its GuestAssist programs, qtags provides custom solutions to stadiums, arenas, conference centers, government agencies and corporations throughout the United States, Canada and the Caribbean.
###