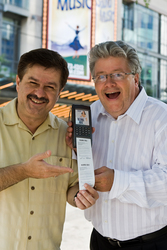 Partnering with Broadway veteran Shubert to expand our in-flight merchandising program to include theater tickets presents a significant growth opportunity for GuestLogix
Toronto, ON and New York, NY (PRWEB) July 31, 2008
Toronto-based GuestLogix Inc. ("GuestLogix" or the "Company") (TSX-V:GXI), the leading provider of on-board retail systems to the passenger travel industry, today announced plans to launch an on-board Broadway ticketing service on flights to the New York City area. The GuestLogix plan includes a multi-year agreement with Broadway Inbound, a division of Shubert Ticketing, dedicated to wholesale theater ticket distribution to the travel industry. Shubert Ticketing is part of The Shubert Organization, Broadway's leading theater owner and provider of ticketing services throughout the U.S. The companies expect this first-of-its-kind ticketing service to go live on-board a major North American airline by late summer 2008.
David Andrews, Senior Vice President, Shubert Ticketing, said, "We are pleased to be working with GuestLogix to drive this evolution in Broadway theater ticket retailing. As tourists account for approximately $600 million in annual Broadway ticket sales, it is key for us to make it extremely convenient for travelers to secure seats to our popular shows. We look forward to working with GuestLogix to eventually expand this program to serve venues in Las Vegas, Los Angeles and Chicago."
The In-Flight Box Office™ service will be offered through GuestLogix' Mobile Virtual Store™, the airline industry's most popular on-board retail solution. Airline flight attendants equipped with GuestLogix' proprietary wireless devices will complete ticket sales and print vouchers to be redeemed for seat assignments at Broadway theater box offices. GuestLogix and each airline will earn fees from on-board ticket sales.
"Partnering with Broadway veteran Shubert to expand our in-flight merchandising program to include theater tickets presents a significant growth opportunity for GuestLogix," said Tom Douramakos, President and CEO, GuestLogix. "North American airlines currently generate less than a dollar in on-board sales per passenger trip. However, with an average transaction price of over $200, selling Broadway tickets provides additional ancillary revenue streams and significantly increases revenue per passenger trip. By offering new products such as this on-board, operators can improve passengers' travel experience, while offsetting rising operating costs and strengthening their bottom line - a value proposition which we believe should prove very attractive to any airline operator flying into the New York City area or other U.S. cities where Shubert provides distribution services."
GuestLogix, in conjunction with Shubert's wholesale ticketing platform, Broadway Inbound, will market and merchandise the theater tickets available for sale on-board. Tickets for shows that will be available for sale through the in-flight service may include, but will not be limited to, Chicago, Mamma Mia!, Spamalot and The Phantom of the Opera.
About Shubert Ticketing
Shubert Ticketing is a division of The Shubert Organization; Broadway's largest theatre owner and operator, with additional venues in Boston, Washington, and Philadelphia, and a provider of retail and wholesale ticketing services nationwide. The Shubert Organization has been one of the leading forces in American theatre over 100 years and is well-known for extraordinary financial and operational stability. Drawing upon this wealth of experience, Shubert Ticketing is at the forefront of the ticketing industry, delivering innovative solutions for private label clients and the many users of the Telecharge.com box office, call center, and online environments.
About GuestLogix
Toronto-based GuestLogix is the leading provider of on-board retail technology and solutions to the passenger travel industry. Through its proprietary Mobile Virtual Store™ platform, the Company provides air, rail and ferry operators the tools to become successful on-board retailers, enhance service and drive ancillary revenue growth. With a customer base consisting of world leading airlines such as American Airlines, Delta Air Lines, Ryanair, Germanwings and Alaska Airlines, GuestLogix maintains contracts to serve more than half billion passenger trips annually. For additional information please visit http://www.guestlogix.com.
Forward-Looking Statements
This news release includes certain forward-looking statements that are based upon current expectations, which involve risks and uncertainties associated with GuestLogix' business and the environment in which the business operates. Any statements contained herein that are not statements of historical facts may be deemed to be forward-looking, including those identified by the expressions "anticipate", "believe", "plan", "estimate", "expect", "intend", and similar expressions to the extent they relate to the Company or its management. The forward-looking statements are not historical facts, but reflect GuestLogix' current expectations regarding future results or events. These forward-looking statements are subject to a number of risks and uncertainties that could cause actual results or events to differ materially from current expectations, including the matters discussed under "Risks and Uncertainties" in the Filing Statement filed on April 23, 2008 with the regulatory authorities. GuestLogix assumes no obligation to update the forward-looking statements, or to update the reasons why actual results could differ from those reflected in the forward-looking statements.
© 2008 GuestLogix. All Rights Reserved.
Contacts:
Media/Analysts: Online media kit: http://www.guestlogix.com/mediakit.html
Josef Zankowicz
VP Marketing & Communications
GuestLogix
647-500-1563
josefz@guestlogix.com
John Elias
Equicom Group
416-815-0700 ext. 239
jelias@equicomgroup.com
Investors:
Kristen Dickson
Equicom Group
416-476-7814
kdickson@equicomgroup.com
The TSX Venture Exchange Inc. has not reviewed and does not accept responsibility for the adequacy or accuracy of this release.
###